Power-Lined: Electricity, Landscape, and the American Mind (Hardcover)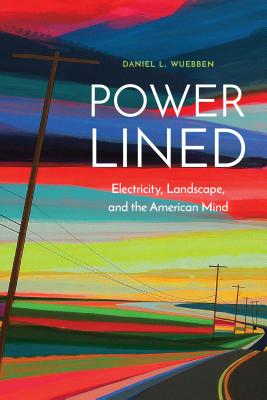 $54.00

Comes From Our Warehouse - Usually Ships in 3-10 Days
Description
---
The proliferation of electric communication and power networks have drawn wires through American landscapes like vines through untended gardens since 1844. But these wire networks are more than merely the tools and infrastructure required to send electric messages and power between distinct places; the iconic lines themselves send powerful messages. The wiry webs above our heads and the towers rhythmically striding along the horizon symbolize the ambiguous effects of widespread industrialization and the shifting values of electricity and landscape in the American mind. 

In Power-Lined Daniel L. Wuebben weaves together personal narrative, historical research, cultural analysis, and social science to provide a sweeping investigation of the varied influence of overhead wires on the American landscape and the American mind. Wuebben shows that overhead wires—from Morse's telegraph to our high-voltage grid—not only carry electricity between American places but also create electrified spaces that signify and complicate notions of technology, nature, progress, and, most recently, renewable energy infrastructure. Power-Lined exposes the subtle influences wrought by the wiring of the nation and shows that, even in this age of wireless devices, perceptions of overhead lines may be key in progressing toward a more sustainable energy future.   
 
About the Author
---
Daniel L. Wuebben is an assistant professor in the Goodrich Scholarship Program at the University of Nebraska Omaha. He is a faculty member of the Office of Latino and Latin American Studies as well as the faculty organizer for the Nebraska Post-Secondary Prison Education Project.
 
 
Praise For…
---
"Focusing on the network of wires that connect energy, place, and culture in the United States, Daniel Wuebben's well-composed meditation on the vinelike web of overhead power lines offers a rich and compelling account of the ambiguities, tensions, and ironies associated with this often-overlooked piece of critical infrastructure. Power-Lined: Electricity, Landscape, and the American Mind is a welcome addition to the energy humanities and social sciences literature with its engaging exploration of the modern imaginaries that inspired the US transmission grid's design as well as the anxieties that accompanied the expansion of overhead lines across the Great Plains and beyond."—Melissa Bollman, Great Plains Quarterly

"Wuebben is provocative and pragmatic about balancing aesthetic interests with the practical realities of an infrastructural item that has become an essential, pervasive part of modern life."—D. Mitch, Choice

"Wuebben's study deserves attention by anyone interested in the effects of technology on society and culture. It is a unique and innovative analysis."—R. Douglas Hurt, Journal of the Illinois State Historical Society

"Daniel Wuebben invites the reader to gaze at the transmission lines crisscrossing our landscape and imagine not only the technology behind the infrastructure but also the politics and poetics of electrifying our country. With historical detail and carefully constructed analysis, Wuebben offers an engaging narrative that fills important gaps in our understanding of the power grid and its physical and cultural ramifications for the twenty-first century."—Julie A. Cohn, author of The Grid: Biography of an American Technology

"Daniel Wuebben's Power-Lined makes a valuable contribution to understanding the crucial place of technology in the relationship between people and the natural world. As he reveals in this measured study of electric power lines, the relationship between people and nature is always dynamic, interactive, complex, and messy."—James C. Williams, author of Energy and the Making of Modern California

"In this eloquent and engaging new book, Daniel Wuebben sheds light on a ubiquitous yet often-overlooked aspect of electrical development: the power lines themselves. This capacious book incorporates the history of technology, literature and cinema studies, and art history in chronicling the history of our wired world, from the stringing of telegraph cables through the development of a smart grid. The result of his impressive attention to detail is a book that will enlighten any reader who is interested in technology, literature, and culture."—Jennifer L. Lieberman, author of Power Lines: Electricity in American Life and Letters, 1882–1952

"Power-Lined has the potential to link several fields of study: history of technology, American studies, literature, design, and art history. This is an important subject, and the author tackles it quite well. . . . It's very readable and entertainingly written."—David Hochfelder, author of The Telegraph in America, 1832–1920