The Little Black Fish (Paperback)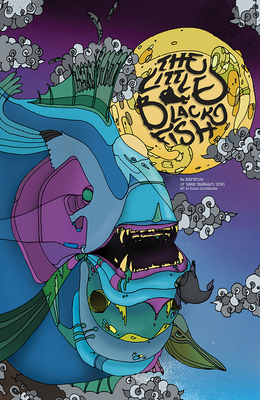 Description
---
Based on the Persian children's classic by Samad Behrangi, this book is about a young fish's courage to question authority and strike out on her own
 
An inquisitive little fish decided to question authority and leave the safety of her own home to venture out into the expansive sea. The creatures she meets along the way teach her important lessons and make her learn the most valuable treasure in life: freedom.
About the Author
---
Bizhan Khodabandeh is a designer, illustrator, artist, and activist. He is the communications director for Virginia Commonwealth University's department of communication arts and design and the design manager of Gallery5 in Richmond. He is the recipient of a Silver Medal Award for comics and cartooning through the Society of Illustrators. He lives in Richmond, Virginia.
Praise For…
---
"The storytelling, the design, the art, letters, and color on Bizhan Khodabandeh's Little Black Fish all stood out to me immediately as something really worth spending time with. This is his first comic I am told. I am impressed. It is a beautiful story. Anyone with a love of comics would do well to pay attention."  —Farel Dalrymple, author/artist, Pop-Gun War 

"The quality of the art, the coloring decisions, the whimsical nature of the panel flow, even the binding and paper choice all make for a beautiful, high-quality-looking book. The art has consistent, almost quilted or stained-glass look to it, even down to the fragmented rays of sunshine or wisps of clouds that left me feeling that the author put a lot of thought into composing each page as a finished piece, rather than an assortment of individual panels. I'm looking forward to seeing what the Bizhan Khodabandeh puts his attentions to next!"  —Joeseph Mirabello, concept artist/game developer, Tower of Guns

"The art is where it really comes out. The bursts of color are brilliant—for a story about a little black fish there are many colors going around here! There are some excellent panel layouts here, where you work your way around the page! The style of the art is well suited and matches the style and history of the story really well. This is something I think all ages should read, with an exciting story and I would recommend it to anyone wanting a read of something different, but works across all cultures!"  —Michael Nimmo, writer, 3 Million Years digital comics