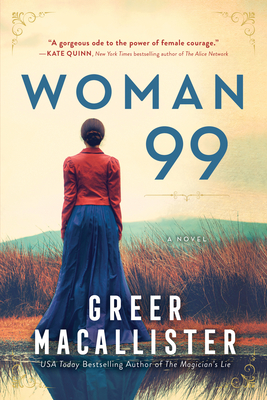 Staff Reviews
---
This book had me at the summary. A young woman fakes madness in order to rescue her older sister from an insane asylum (she's inspired by Nellie Bly) and things go terribly wrong! I'm a huge fan of Greer Macllister, and this is definitely a book to devour. Plus, we have signed copies at the moment!
— From
Katie
Description
---
"Woman 99 is a gorgeous ode to the power of female courage."--Kate Quinn, New York Times bestselling author of The Alice Network
A vivid historical thriller about a young woman whose quest to free her sister from an infamous insane asylum risks her sanity, her safety, and her life.
When Charlotte Smith's wealthy parents commit her beloved sister Phoebe to the infamous Goldengrove Asylum, Charlotte knows there's more to the story than madness. She commits herself to the insane asylum, surrendering her real identity as a privileged young lady of San Francisco society to become a nameless inmate, Woman 99.
The longer she stays, the more she realizes that many of the women of Goldengrove Asylum aren't insane, merely inconvenient--and her search for the truth threatens to dig up secrets that some very powerful people would do anything to keep.
Inspired by the investigative journalism of Nellie Bly, and other true accounts of 19th century insane asylums.
Rich in detail, deception, and revelation, Woman 99 is historical fiction that honors the fierce women of the past, born into a world that denied them power but underestimated their strength.