Better Nate Than Ever (Paperback)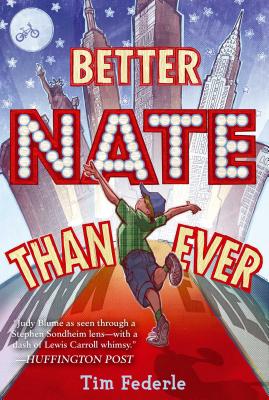 $7.99
Not available for purchase
Description
---
"The Nate series by Tim Federle is a wonderful evocation of what it's like to be a theater kid. Highly recommended." —Lin-Manuel Miranda, star and creator of the musical, Hamilton

A New York Times Notable Book of the Year
A Publishers Weekly Best Book of the Year
A Slate Favorite Book of the Year

A small-town boy hops a bus to New York City to crash an audition for E.T.: The Musical in this winning middle grade novel that The New York Times called "inspired and inspiring."

Nate Foster has big dreams. His whole life, he's wanted to star in a Broadway show. (Heck, he'd settle for seeing a Broadway show.) But how is Nate supposed to make his dreams come true when he's stuck in Jankburg, Pennsylvania, where no one (except his best pal Libby) appreciates a good show tune? With Libby's help, Nate plans a daring overnight escape to New York. There's an open casting call for E.T.: The Musical, and Nate knows this could be the difference between small-town blues and big-time stardom.

Tim Federle's "hilarious and heartwarming debut novel" (Publishers Weekly) is full of broken curfews, second chances, and the adventure of growing up—because sometimes you have to get four hundred miles from your backyard to finally feel at home.
About the Author
---
Tim Federle is "a prolific scribe whose breezy wit isn't bound to a single genre" (Huffington Post). Tim's award-winning novels include The New York Times Notable Books The Great American Whatever and the Nate series—which Lin-Manuel Miranda called "a wonderful evocation of what it's like to be a theater kid." Tim cowrote both the Tony-nominated Broadway musical Tuck Everlasting, and the Golden Globe and Oscar–nominated Best Animated Feature Ferdinand, starring John Cena and Kate McKinnon. A native of San Francisco who grew up in Pittsburgh, Tim now divides his time between New York and the internet (@TimFederle).
Praise For…
---
"Critics are raving about Nate."
— CNN

"The book I needed--and would have adored--when I was a kid. Federle writes from the heart and hits you in the gut--not to mention your funny bone."
— Jesse Tyler Ferguson, star of Modern Family

"A smash hit! If there were a Tony Award for books, it would go to Better Nate Than Ever."
— Alan Menken, Tony and Oscar-winning composer of Newsies and Beauty and the Beast

"No one captures Broadway or the kids who want to be part of it with the humor, insight and heart of Tim Federle. This hysterical and heartwarming story is for everyone who dreams of going out there a middle-schooler and coming back a star."

— Thomas Schumacher, Tony Award–winning producer of The Lion King

"I can't stop reading this book! Nate Foster's hilarious and touching adventures en route to making it big on Broadway just kill me—I'm falling in love with New York City all over again, and with Nate for the first time. Please, Tim Federle, take a break before writing your next book, so I'll have time to write mine. I can only hope it's half as much fun as Better Nate Than Ever!"
— James Howe, author of The Misfits

"The funny, awkward, vulnerable Nate is an insightful and entertaining narrator for this adventurous tale about an ugly duckling learning to experience and embrace his inner swan."
— The New York Times Book Review

"[A] charming debut by a rising theater star."
— Entertainment Weekly

"Hilarious and heartwarming...this book soars."
— Publishers Weekly, starred review

"From his obsession with the first franchise restaurant he sees in New York to his infectious enthusiasm for city-life, Nate is the quintessential starry-eyed small-town boy in the Big Apple...Between the hijinks and the humor, however, Nate reveals himself to be a kid who accepts that he is a disappointment to his conventional family and yet still remains solidly himself, optimistically certain that there is a place for guys like him somewhere in the world. There's plenty of substance to go along with the razzle-dazzle here, so sit back and enjoy the show."
— BCCB, Recommended

"A story of Broadway dreams tailor-made for the younger side of the Glee audience...Nate is a quirky and endearing leading man from the start, and anyone who has ever felt out of place will easily identify with him. It's a joy to watch him fall head over heels for a city that couldn't care less about him—in the best possible way...Federle's debut addresses—deftly—big and solemn issues in the second half of the novel, particularly with regard to family, sexuality and religion. Bravo, Nate!"
— Kirkus Reviews

"Funny and insightful...This talented first-time author has made the classic Chorus Line theme modern and bright for the Glee generation."
— Booklist

"Explores weighty issues such as sibling rivalry, bullying, religious parents, and gay or questioning teens with a remarkably lighthearted and humorous touch totally appropriate for young audiences."
— School Library Journal

"Filled with adventure, suspense, plenty of humor, and incredibly unique characters, Better Nate than Ever will be enjoyed by anyone who has ever decided to stop waiting, and make their own dreams come true."
— Bookpage

"[A] twinkling adventure tale for the musical theater set."
— New York Times

"Judy Blume as seen through a Stephen Sondheim lens -- with a dash of Lewis Carroll whimsy. As long as Federle wants to tell stories, a new generation of Broadway-loving theater fans has a voice in young adult literature."
— Huffington Post

"[A] little book with big star quality."
— Shelf Awareness

"The Nate series by Tim Federle is a wonderful evocation of what it's like to be a theater kid. Highly recommended."
— Lin-Manuel Miranda, star and creator of the musical, Hamilton