Encaustic Mixed Media: Innovative Techniques and Surfaces for Working with Wax (Paperback)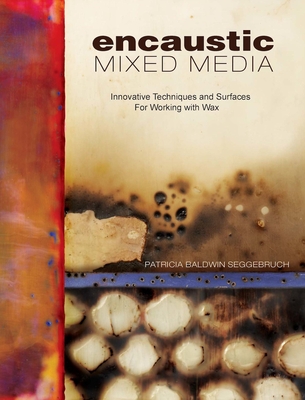 $32.99
Not available for purchase
Description
---
Rusting and burning, carving and spackling, tarring and flocking: These are just a few of the unique and surprising techniques author Patrica Trish Baldwin Seggebruch shares with you in Encaustic Mixed Media
New to encaustic? With Trish leading the way, you can start today And if you've dabbled in encaustic before, the creative approach and new materials and techniques used in this book will blow you away
Encaustic Mixed Media includes:
Unexpected art supplies: From the hardware store to the art supply store, author Patricia Baldwin Seggebruch shatters the conventions of what are and are not art supplies. Shellac? Yes. Tar? Sure. Patching plaster? Of course But it doesn't stop there. You'll mix these unexpected materials with some others that are a tad more traditional, like decorative papers, and pastels.
Embellishment mini-demos: Why use ordinary, everyday embellishments when you can make cool ones yourself? Glue-molded structural elements and fire-treated papers and plastics: These are just a few of the unique embellishments you'll learn to create.
Visual inspiration: Savor amazing combinations of color, texture and technique. Dozens of galley pieces throughout the book will make you want to get started right away
About the Author
---
Patricia Baldwin Seggebruch is a mixed media artist specializing in the art of encaustic painting and author of Encaustic Workshop (NL, Feb '09). She teaches workshops and gives demonstrations throughout the country and has won several awards for her work. Patricia's work has been featured in cloth paper scissors, the Daniel Smith Reference Catalog and New Art International 2006/2007 Edition. Check out her website: www. pbsartist.com. Patricia lives in Snohomish, WA.