Cryer's Cross (Hardcover)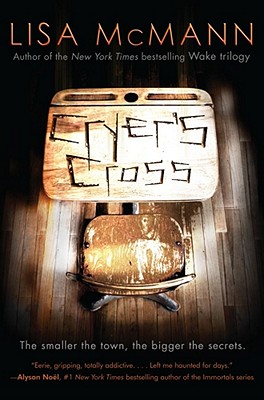 $16.99
Currently Out of Stock - Available to Ship From Our Warehouse in 3-5 Days
Description
---
Kendall loves her life in small town Cryer¹s Cross, Montana, but she also longs for something more. She knows the chances of going to school in New York are small, but she's not the type to give up easily. Even though it will mean leaving Nico, the world's sweetest boyfriend, behind.

But when Cryer's Cross is rocked by unspeakable tragedy, Kendall shoves her dreams aside and focuses on just one goal: help find her missing friends. Even if it means spending time with the one boy she shouldn't get close to... the one boy who makes her question everything she feels for Nico.

Determined to help and to stay true to the boy she's always loved, Kendall keeps up the search--and stumbles upon some frightening local history. She knows she can't stop digging, but Kendall is about to find out just how far the townspeople will go to keep their secrets buried....
About the Author
---
Lisa McMann is the New York Times bestselling author of the middle grade dystopian fantasy series The Unwanteds, the YA paranormal Wake trilogy, and several other books for kids and teens. She lives with her family in the Phoenix area. Check out Lisa's website at LisaMcMann.com, learn more about The Unwanteds Series at UnwantedsSeries.com, and be sure to say hi on Instagram or Twitter (@Lisa_McMann), or Facebook (Facebook.com/McMannFan).
Praise For…
---
"A brilliant, engaging, scary piece of fiction. Every word had me sliding closer to the edge of my seat and gripping the cover tighter and tighter. There are books in the world that make you question your reality and the things that go bump in the night--this is one of them." --Heather Brewer, New York Times bestselling author of The Chronicles of Vladmir Tod

"Cryer's Cross is an eerie, gripping, totally addictive, breathtaking whirl of a book with an ending that left me haunted for days. Lisa McMann has done it again--this book is unputdownable!"
--Alyson Noël, #1 New York Times Bestselling Author of THE IMMORTALS series.

"Cryer's Cross is creepy, mysterious, and completely absorbing. The intimacy of McMann's small town setting makes this novel especially gripping--and foreboding. Kendall is an excellent protagonist, and her struggles with obsessive-compulsive disorder not only add a whole new fascinating dimension to the story, but the way McMann uses it to uncover a vital clue to the mystery of disappearances in Cryer's Cross is brilliant. Cryer's Cross is peppered with snatches of narrative from the force behind the disappearances, which gives the story extra urgency and suspense, so by the final chapters, you'll hardly be able to keep still. Tragic, emotional, sometimes humorous, and full of tension, Cryer's Cross is one stand-out novel and possibly Lisa McMann's best book yet."
--The Compulsive Reader (thecompulsivereader.com)

"This book was so, so, so good! [It's] creepy, addicting and the tension builds page by page. I also love the fact that the story concept is completely original! There isn't a werewolf or a vampire to be found in this book :) Go get it! You won't be disappointed!"
--Jennifer, latebloomeronline.com

"Wow. Just wow. It was absolutely haunting.
I have never read anything that focused around OCD. It was interesting to be in the mind of someone who has it and to know what they are feeling and thinking. Having to obsess over such things must be extremely stressful and [McMann] portrays that beautifully.
I think the story was fantastic. It was very well put together. It was so creepy! Adding the OCD issue made it even more intriguing. I swear at some points of the books I really had goosebumps."
--Missy @ tworeadersreviews.blogspot.com

"Lisa McMann, the bestselling author of the Wake trilogy, brings us another exciting thriller with CRYER'S CROSS. As always, she grabs a hold of her readers in the first paragraph and propels them through the pages with trepidation, curiosity and foreboding. Scattered between chapters are short, cryptic messages from an unknown source, adding to the mystery and suspense. In this story, McMann tackles the complications of OCD, and she does so with grace and empathy; one can't help but feel Kendall's frustrations as she attempts to deal with her difficult and confusing disorder. Kendall, of course, is the book's most fascinating character, though others add intrigue as well, including the dark and sullen new boy at school.

CRYER'S CROSS is an exciting page-turner of a thriller that fans will not want to see end, leaving them impatiently waiting for McMann's next book. "

--teenreads.com