The Lost Crown (Paperback)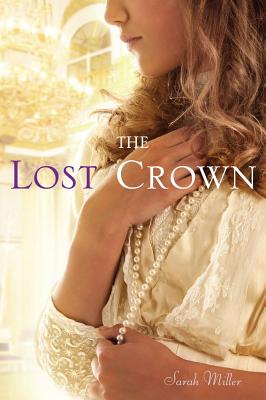 Description
---
A heart-wrenching, suspenseful look at the downfall of the Russian empire as told through the eyes of the four Romanov sisters.

Olga, Tatiana, Maria, and Anastasia. Like the fingers on a hand—first headstrong Olga, then Tatiana the tallest, Maria most hopeful for a ring, and Anastasia the smallest. These are the daughters of Tsar Nicholas II, grand duchesses living a life steeped in tradition and privilege. They are young women each on the brink of starting her own life. The summer of 1914 is that precious last wink of time when they can still be sisters together—who link arms and laugh, sisters who share their dreams and worries, and who flirt with the officers of their imperial yacht.
But in a gunshot the future changes—for these sisters and for Russia.
As World War I ignites across Europe, political unrest sweeps Russia. First dissent, then disorder, mutiny—and revolution. For Olga, Tatiana, Maria, and Anastasia, the end of their girlhood collides with the end of more than they ever imagined.
At the same time hopeful and hopeless, naïve and wise, the voices of these sisters become a chorus singing the final song of this great empire. Impeccably researched and utterly fascinating, acclaimed author Sarah Miller recounts the final days of Imperial Russia.
About the Author
---
Sarah Miller began writing her first novel at 10 years old, and has spent half her life working in libraries and bookstores. She is the author of Miss Spitfire: Reaching Helen Keller, which was named an ALA Best Book for Young Adults and nominated for numerous state award lists. Sarah lives in Michigan with her family. Visit her online at sarahmillerbooks.com.
Praise For…
---
Tsar Nicholas II's four ill-fated daughters provide a fictional, inside look at Imperial Russia's dying days in this thoroughly researched, poignant and compelling account of how the deposed Romanovs coped with abdication and arrest from 1914 to 1918.
At the beginning of World War I, Russia's grand duchesses, Olga (19), Tatiana (17), Maria (15) and Anastasia (13) lived privileged, protected lives with their mild-mannered father, Nicholas, their anxious mother, Alexandra and their hemophiliac younger brother, Aleksei. Relying on letters, diaries and photographs of the imperial family as well as memoirs of people who shared their last years, Miller imagines how war and revolution irrevocably transported the Romanovs from their palace to house arrest in rural Tobolsk and final captivity in Ekaterinburg. The human side of their story is related chronologically through the alternating first-person voices of insightful Olga, organized Tatiana, kind-hearted Maria and impish Anastasia. Removed from the political drama exploding outside their doors, Olga, Tatiana, Maria and Anastasia emerge as isolated, unique young women with their own dreams and fears. As they nurse wounded soldiers, care for their fretful mother, amuse their ailing brother and suffer humiliation and deprivation, the four sisters symbolize family devotion and enduring hope in the face of bitter fate.
A fascinating, moving exploration of the endlessly fascinating Romanovs, buttressed by extensive and fascinating backmatter. - KIRKUS, May 1, 2011, *STAR


The Lost Crown.
Miller, Sarah (Author)
Jun 2011. 448 p. Atheneum, hardcover, $17.99. (9781416983408).
The Russian Grand Duchesses, who were murdered by the Bolsheviks in 1918 along with the rest of their family, have become something of a literary mainstay. This thoroughly researched novel brings the four young women to readers in their own voices. In alternating chapters (each with a small photo of the
narrator), Olga, Tatiana, Maria, and Anastasia report on their lives and their relationships and slowly but
surely reveal the perilous situation in which they find themselves. Each Grand Duchess comes across as a unique personality, with the best known, Anastasia, the most distinctive. But each girl is given time and space to reveal and reflect, and like the best historical novels, this allows modern-day teens to see parts of themselves in very different people. Sometimes the Russian words and history overwhelm the narrative, but by the heartbreaking book's conclusion, readers will be caught up in the girls' story. A glossary, a note about the Russian calendar, and an affecting epilogue complete the book.
--BOOKLIST, April 15, 2011


Gr 8 Up–This story of the last months of the Romanovs is told from the perspectives of the four grand duchesses: Olga, Tatiana, Maria, and Anastasia. It is not an easy book to read—Russian names and nicknames, among other things, present constant challenges, but for dedicated readers, it is well worth the effort. The four points of view begin as virtually indistinguishable from one another, but emerge as strong, separate voices as the lives of the Romanovs become more and more circumscribed. Miller asks her readers to view events through the eyes of these girls while also applying the lens of historical perspective. Thus, Rasputin is loved and revered by the Romanov sisters. The grand duchesses lead, by their own account at least, a fairly Spartan life in the palace, which would hardly be the opinion of the Bolsheviks. They are surprised by the animosity that their beloved peasantry feels toward them, and are shocked by the small acts of cruelty perpetrated on them by their guards. The Lost Crown is a wonderful way to demonstrate that all history–not just historical fiction–has a point of view, but it is also a finely crafted, character-infused novel that leaves readers wishing it could have ended another way for the Romanovs. Miller includes many vintage photographs, an epilogue, author's note, glossary, and cast of characters. A finely wrought and complex novel.–Corinne Henning-Sachs, Walker Memorial Library, Westbrook, ME
- SLJ July 2011



"A dramatic, powerful narrative and a masterful grasp of life in this vanished world."
--Greg King, co-author of The Fate of the Romanovs and Resurrection of the Romanovs



"As Romanov fiction goes, this is probably the best of the bunch."
~ Helen Rappaport, author of The Last Days of the Romanovs: Tragedy at Ekaterinburg