Autograph Collecting 101: How To Collect Autographs Through The Mail (Paperback)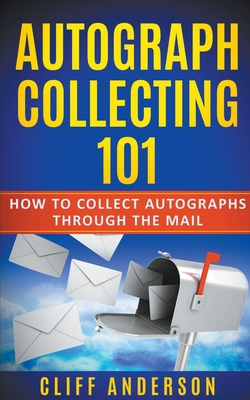 $5.99
Not available for purchase
Description
---
Are you looking for a new hobby? Do you want to own small pieces of history? Or maybe you are looking for a potential side income during these hard times? Autograph collecting is for you
All you need is a little direction. With nearly a decade of experience and over 1000 autographs of athletes, actors, musicians, politicians, military veterans, criminals, and almost any other kinds of famous people you can think of, Cliff Anderson is ready to share his collecting methods to help you start getting the autographs you want, right now.
Requesting a desired signature can be fascinating, and occasionally like being in the middle of an action movie. For example, the author once received a visit from the FBI after attempting to get an autograph from a convicted high level terrorist that's serving a life sentence at a Supermax prison Read that insane story and many others inside. You don't have to take autograph collecting to that extreme, but that just goes to show you that the amount of people you can request autographs from is almost limitless Don't delay, read this book and learn from one of the best in the business today.
Subjects covered in this book:
-My Story
-How To Get Autographs
-Finding Contact Information
-Protecting Autographs
Fake Autographs
-Notable Autographs
-Military Autographs
-Old, Dead And Hard To Find
-Crime Autographs
-The FBI Visit
-The Latvia Story
-"A must-have for those who are interested in this fascinating and absorbing hobby "