In Every Generation (Buffy: The Next Generation, Book 1) (Hardcover)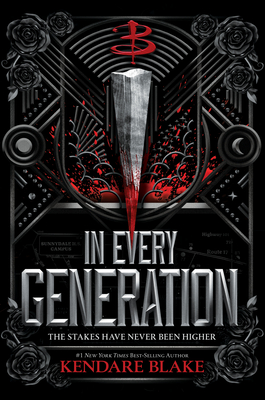 Staff Reviews
---
There's a new Scooby Gang forming in Sunnydale, although there's plenty of familiar faces (Willow, Oz, Spike!). When tragedy strikes a Slayer's convention, it falls to Frankie Rosenberg to take on the mantle of slayer. She's still struggling with learning magic, so staking vampires and battling demons is a nightmare. In Every Generation is a great nostalgic read for Buffy lovers, and a fantastic introduction to how to survive when your high school is directly over a hell mouth for new readers.
— From
Katie
Description
---
Return to Sunnydale in a brand-new series by New York Times best-selling author Kendare Blake, set in the world of Buffy the Vampire Slayer.

Frankie Rosenberg wasn't yet alive when her mom, Willow, her aunt Buffy, and the original Scooby Gang destroyed the Hellmouth and saved the world from the First Evil. These days, life in New Sunnydale is blissfully quiet. Frankie is just trying to survive her sophomore year at the rebuilt high school and use her budding magical powers to make the world a better place.

But that world is suddenly plunged into danger when the slayer community is the target of a deadly attack, leaving the future of the line uncertain. Then Frankie discovers she's sort of freakishly strong. Oh, and there's something Willow never told her about her true identity.

Cue the opening credits.

Quicker than she can carve a stake, Frankie discovers there's more to saving the world than witty one-liners and stupid hot demons. now everyone looks to her for answers, but speaking up has never been her strong suit. And it's hard to be taken seriously when your mom is such a powerful witch she almost ended the world once, while your greatest magic trick is recycling.

Despite the many challenges standing in her way, Frankie must assemble her own bumbling Scooby Gang, get dressed up in Buffy's (vintage '90s) clothes, and become a new slayer for a new generation—before whatever came for the rest of the slayers comes for her next.

"A worthy successor to the Slayer stories." –Booklist Starred Review
About the Author
---
Kendare Blake is the New York Times bestselling author of several novels and short stories. Her work is sort of dark, always violent, and features passages describing food from when she writes while hungry. She was born in July in Seoul, South Korea, but doesn't speak a lick of Korean, as she was packed off at a very early age to her adoptive parents in the United States. That might be just an excuse, though, as she is pretty bad at learning foreign languages. She lives and writes in Gig Harbor, Washington, with her husband, their cat son Tyrion Cattister, red Doberman dog son Obi-Dog Kenobi, rottie mix dog daughter Agent Scully, and naked Sphynx cat son Armpit McGee.

Praise For…
---
PRAISE FOR IN EVERY GENERATION

"A worthy successor to the Slayer stories."

—Booklist Starred Review<br><br>

"A worthy successor to the Slayer stories."

—Booklist Starred Review<br>