Fish Feud!: A Graphix Chapters Book (Squidding Around #1) (Paperback)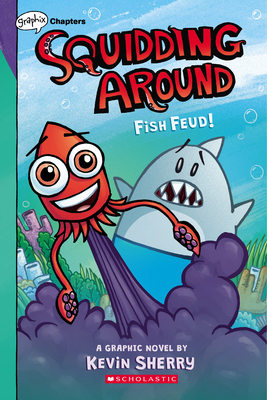 Staff Reviews
---
This is such a great little graphic novel! With lines like "Who do you think you are? Gilliam Shakespeare? Stephen King Crab?", how could I resist?!? Squizzard (a squid) and Toothy (a vegetarian great white shark and gentle giant) are best friends, but Squizzard is kind of a jerk. He's selfish and bossy and Toothy has finally had enough. With a lot of sea puns along the way and a few ocean wildlife facts, this is a terrific read and would be a great book for both the bullied and bullies to start a conversation about how to stand up for yourself and how to be nice. Vibrant color illustrations by the author add to the drama and hilarity immensely.
— From
Kelly
Description
---
This wonderfully silly young graphic novel from Graphix Chapters about fin-tastic friends and first fights is perfect for fans of
Narwhal and Jelly
!
Squizzard is a little squid with a big personality. He loves telling jokes, scarfing sardines, and hanging with his best friend Toothy. But the thing he loves most is being in charge. When Squizzard makes up games, he is always the hero and Toothy is always the sidekick. He never listens or admits he's wrong, and one day he pushes Toothy too far. His bossiness causes a rift in their friendship the size of the Mariana trench! Can Squizzard convince Toothy to give him a second chance or is he doomed to be the loneliest kid at Deep Reef Elementary?
Graphix Chapters are ideal books for beginning and newly independent readers. With approachable page counts, easy-to-follow paneling, and artwork that supports text comprehension, these engaging stories with unforgettable characters help children become lifelong readers.
Get drawn into reading with Graphix Chapters!
About the Author
---
Kevin Sherry is the author and illustrator of many children's picture books, most notably I'm the Biggest Thing in the Ocean, which received starred reviews in Publishers Weekly and Kirkus, and won an original artwork award from the Society of Illustrators. He's a man of many interests: a chef, an avid cyclist, the founder of online screen-printing company Squidfire, and a performer of hilarious puppet shows for kids and adults.
Kevin lives with his two pet rats, Noodles and Torch, in Baltimore, Maryland, conveniently close to his deep sea friends.
Praise For…
---
Praise for Squidding Around #1: Fish Feud!:"Sherry brings an empathetic tale of self-examination and change to life with easy-to-read chapters and an eye-catching comics format." -- Kirkus ReviewsPraise for Meet the Bigfeet (The Yeti Files #1):"A fast and funny graphic-prose tale full of labeled pictures and comic-style panels. Those just starting chapter books... [will] enjoy the big friendly monsters and immediately ask for the next tale." -- Kirkus ReviewsPraise for I'm the Biggest Thing in the Ocean:* "Waves of exuberance flow out of this crowd-pleaser, in which a squid proudly points out how much bigger it is than any shrimp, clam, octopus or fish in the neighborhood." -- Kirkus Reviews, starred review* "Sherry renders his hero and habitat in bright colors and bold, simple shapes that will be surefire eye magnets for preschoolers." -- Publishers Weekly, starred review

Praise for Squidding Around #1: Fish Feud!:"Sherry brings an empathetic tale of self-examination and change to life with easy-to-read chapters and an eye-catching comics format." -- Kirkus ReviewsPraise for Meet the Bigfeet (The Yeti Files #1):"A fast and funny graphic-prose tale full of labeled pictures and comic-style panels. Those just starting chapter books... [will] enjoy the big friendly monsters and immediately ask for the next tale." -- Kirkus ReviewsPraise for I'm the Biggest Thing in the Ocean:* "Waves of exuberance flow out of this crowd-pleaser, in which a squid proudly points out how much bigger it is than any shrimp, clam, octopus or fish in the neighborhood." -- Kirkus Reviews, starred review* "Sherry renders his hero and habitat in bright colors and bold, simple shapes that will be surefire eye magnets for preschoolers." -- Publishers Weekly, starred review

Praise for Squidding Around #1: Fish Feud!:"Sherry brings an empathetic tale of self-examination and change to life with easy-to-read chapters and an eye-catching comics format." -- Kirkus ReviewsPraise for Meet the Bigfeet (The Yeti Files #1):"A fast and funny graphic-prose tale full of labeled pictures and comic-style panels. Those just starting chapter books... [will] enjoy the big friendly monsters and immediately ask for the next tale." -- Kirkus ReviewsPraise for I'm the Biggest Thing in the Ocean:* "Waves of exuberance flow out of this crowd-pleaser, in which a squid proudly points out how much bigger it is than any shrimp, clam, octopus or fish in the neighborhood." -- Kirkus Reviews, starred review* "Sherry renders his hero and habitat in bright colors and bold, simple shapes that will be surefire eye magnets for preschoolers." -- Publishers Weekly, starred review