Before the Coffee Gets Cold (Hardcover)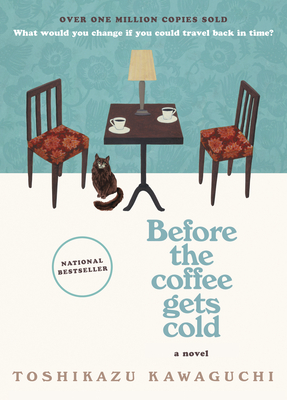 $19.99
Available to Ship From Our Warehouse
Staff Reviews
---
This is the perfect book to curl up with a blanket and a warm drink! Toshikazu Kawaguchi's beautiful story and setting is the epitome of cozy. Each character feels so real, with universal problems surrounding love, family, and growing older. The magic of time travel, and the magic of getting to say what they really feel, makes this a soul satisfying story. The desire to make things right with our loved ones is a universal impulse. Everything about Before the Coffee Gets Cold is fun and true.
— From
Karyn
December 2020 Indie Next List
---
"This was the most interesting and wholesome take on time travel I have ever read. Everything in the world is totally normal, but if you sit in a specific seat in a specific cafe in Tokyo, you can travel back in time. There are some rules in order to time travel, but my favorite one? You can only stay in the past for as long as your coffee is warm. This charming and emotional story of four different women teaches about the importance of making the most with the time you're given."
— Lauren Suidgeest, Schuler Books (Grand Rapids), Grand Rapids, MI
Description
---
*OVER ONE MILLION COPIES SOLD*
*NOW AN INTERNATIONAL BESTSELLER*
If you could go back, who would you want to meet?In a small back alley of Tokyo, there is a caf that has been serving carefully brewed coffee for more than one hundred years. Local legend says that this shop offers something else besides coffee--the chance to travel back in time.
Over the course of one summer, four customers visit the caf in the hopes of making that journey. But time travel isn't so simple, and there are rules that must be followed. Most important, the trip can last only as long as it takes for the coffee to get cold.
Heartwarming, wistful, mysterious and delightfully quirky, Toshikazu Kawaguchi's internationally bestselling novel explores the age-old question: What would you change if you could travel back in time?