You Can Go Your Own Way (Hardcover)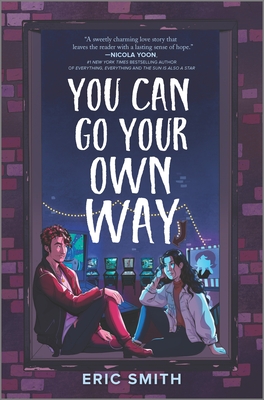 Staff Reviews
---
Smith has done it again in this cute YA romance with a heavy dose of gaming! I am a huge pinball nerd myself, so this already appealed to me and the story of Adam and Whitney was so endearing! Adam is trying desperately to save the family arcade from Whitney's developer father. It's the last thing Adam has left of his late father, and he can't let it go. A snowstorm traps the two inside the arcade and they can't help but hash out all that's gone wrong over the past few years. What will happen to Whitney and Adam once the roads clear - and what will happen to the arcade?
— From
Andi
Description
---
"A sweetly charming love story that leaves the reader with a lasting sense of hope." --Nicola Yoon, #1 New York Times bestselling author of Everything, Everything and The Sun Is Also a Star

"The perfect novel to snuggle up with." --Emily Henry, New York Times bestselling author of Beach Read

A heartwarming and thoughtful enemies-to-lovers rom-com about two teens--one trying to save his family's failing pinball arcade, the other working for her tech genius dad who wants to take it over--who get trapped together in a snowstorm.

Adam Stillwater is in over his head. But the pinball arcade is the only piece of his dad that Adam has left, and he's determined to protect it from Philadelphia's newest tech mogul, who wants to turn it into another one of his cold, lifeless gaming caf's.

Whitney Mitchell doesn't know how she got here. Her parents split up. Her boyfriend dumped her. And now she's spending her senior year running social media for her dad's chain of super successful gaming caf s--which mostly consists of trading insults with that decrepit old pinball arcade across town.

But when a huge snowstorm hits, Adam and Whitney find themselves trapped inside the arcade. Cut off from their families, their worlds, and their responsibilities, the tension between them seems to melt away, leaving something else in its place. But what happens when the storm ends?