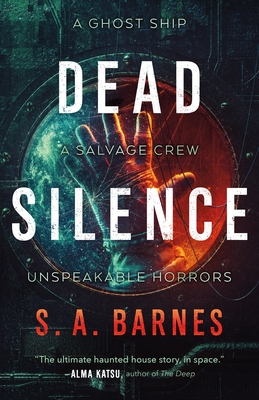 Staff Reviews
---
The best of so many things! It's a ghost story, a character study, a horror novel, and it's all in a space version of the Titanic!!!! The author was inspired by visiting a Titanic exhibit in 2017 and features a trauma-riddled captain leading her small crew on a stranded luxury space cruiser full of the rich and famous that had lost contact and disappeared years before. Creepy horror in outer space, really well written. Loved it!
— From
Kelly
Description
---
A Most-Anticipated Title in Bustle, i09, LitHub, PopSugar, CrimeReads, BookRiot, GoodReads and more.
STARRED Review in BookPage!

Titanic meets The Shining in this SF horror novel in which a woman and her crew board a decades-lost luxury cruiser and find the wreckage of a nightmare that hasn't yet ended.

Claire Kovalik is days away from being unemployed—made obsolete—when her beacon repair crew picks up a strange distress signal. With nothing to lose and no desire to return to Earth, Claire and her team decide to investigate.

What they find is shocking: the Aurora, a famous luxury spaceliner that vanished on its maiden tour of the solar system more than twenty years ago. A salvage claim like this could set Claire and her crew up for life. But a quick search of the ship reveals something isn't right.

Whispers in the dark. Flickers of movement. Messages scrawled in blood. Claire must fight to hold on to her sanity and find out what really happened on the Aurora before she and her crew meet the same ghastly fate.

"Truly un-put-downable in its purest sense." Chloe Gong, #1 New York Times bestselling author of These Violent Delights
About the Author
---
S.A. BARNES works in a high school library by day, recommending reads, talking with students, and removing the occasional forgotten cheese-stick-as-bookmark. The author has published numerous novels across different genres, but Dead Silence is the first published as S. A. Barnes. Barnes lives in Illinois with more dogs and books than is advisable and a very patient spouse.
Praise For…
---
"This is great, immersive, atmospheric space horror that shows Barnes is a talented storyteller and proves that, despite rumors to the contrary, horror belongs in space." —Locus

"Dead Silence mixes horror, mystery and sci-fi into a thrill ride sure to shock you out of your reading rut. This is one of those time-warp books—the ones where you look away from the clock, then look back and it's suddenly way past your bedtime." —BookPage, Starred Review

"With a compelling haunted-house-in-space frame, excellent worldbuilding, vivid imagery, biting social commentary, sustained tension, and a storytelling style that seamlessly moves between the mortal danger of the present and Kovalik's unsettling past, this sf-horror blend will resonate loudly with readers." —Library Journal

"Stomach-turning, sinister space horror perfect for fans of Alien and Event Horizon." —Kendare Blake, #1 New York Times bestselling author

"I ate this book in one sitting because I was in the mood to be freaked out and it delivered tremendously. Truly un-put-downable in its purest sense." —Chloe Gong, #1 New York Times bestselling author of These Violent Delights

"At the intersection of science fiction and horror, Dead Silence is the ultimate haunted house story, in space." —Alma Katsu, author of The Deep and The Hunger

"Barnes is giving you Titanic but make it scary, she's giving you Event Horizon, she's giving you Ghost Ship; for real, this book will make your skin crawl." —BookRiot

"This story slides and slithers from creepy and atmospheric to skin-crawling, edge-of-your-seat terror." —T. Kingfisher, author of The Hollow Places

"Dead Silence gives you the suffocating claustrophobia of 2001: A Space Odyssey mixed with the horrors of Alien. I couldn't stop reading." —Mur Lafferty, Hugo Award-Winning author of Six Wakes

"Barnes ably conjures the kind of haunting setting and atmosphere required for this Event Horizon-esque novel... Recommended for fans of claustrophobic space horror." —Booklist

"Barnes plays nicely on human fears of both madness and of ghosts, carefully blurring the line between science fiction and horror... Those with a taste for blending genres will enjoy this combo." —Publishers Weekly

"Creepy and satisfying; I'll be checking under my bed tonight." —Sarah Pinsker, author of the Nebula Award winning A Song For A New Day

"I've always considered Alien the high mark of sci-fi horror. No longer. Dead Silence leaves it in the dust." —Lisa Shearin, New York Times bestselling author

"Dead Silence will keep you awake at night....Expertly paced, this novel is full of old ghosts in every way possible, and will haunt you long after the last page." —Laurie Faria Stolarz, author of Jane Anonymous

"I was turning pages long into the night, and the bags under my eyes are well worth it!" —Rachel Vincent, New York Times bestselling author of Red Wolf

"Compulsive reading at its best. A sci-fi horror so expertly delivered you'll be peeking through your fingers until the last page!" —Melissa Landers, author of the Alienated and Starflight series

"The richly realized world that S.A. Barnes creates draws us in, and the relatable characters charm us. The dread mounts to a powerful conclusion." —David Wellington, author of The Last Astronaut