The Perfect Father: The True Story of Chris Watts, His All-American Family, and a Shocking Murder (Mass Market)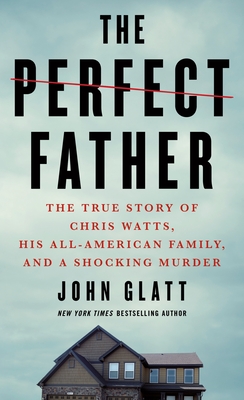 Description
---
In The Perfect Father, New York Times bestselling author John Glatt reveals the tragedy of the Watts family, whose seemingly perfect lives played out on social media—but the truth would lead to a vicious and heartbreaking murder.

In the early morning hours of August 13th, 2018, Shanann Watts was dropped off at home by a colleague after returning from a business trip. It was the last time anyone would see her alive. By the next day, Shanann and her two young daughters, Bella and Celeste, had been reported missing, and her husband, Chris Watts, was appearing on the local news, pleading for his family's safe return.

But Chris Watts already knew that he would never see his family again. Less than 24 hours after his desperate plea, Watts made a shocking confession to police: he had strangled his pregnant wife to death and smothered their daughters, dumping their bodies at a nearby oil site. Heartbroken friends and neighbors watched in shock as the movie-star handsome, devoted family man they knew was arrested and charged with first degree murder. The mask Chris had presented to the world in his TV interviews and the family's Facebook accounts was slipping—and what lay beneath was a horrifying image of instability, infidelity, and boiling rage.

In this first major account of the case, bestselling author and journalist John Glatt reveals the truth behind the tragedy and constructs a chilling portrait of one of the most shocking family annihilator cases of the 21st century.
About the Author
---
English-born John Glatt is the author of Lost and Found, Secrets in the Cellar, Playing with Fire, and many other bestselling books of true crime. He has more than 30 years of experience as an investigative journalist in England and America. Glatt left school at 16 and worked a variety of jobs—including tea boy and messenger—before joining a small weekly newspaper. He freelanced at several English newspapers, then in 1981 moved to New York, where he joined the staff for News Limited and freelanced for publications including Newsweek and the New York Post. His first book, a biography of Bill Graham, was published in 1981, and he published For I Have Sinned, his first book of true crime, in 1998. He has appeared television and radio programs all over the world, including Dateline NBC, Fox News, Current Affair, BBC World, and A&E Biography. He and his wife Gail divide their time between New York City, the Catskill Mountains and London.
Praise For…
---
"Glatt's expert coverage of the investigation is riveting, especially his portrayal of the psychological approaches used to interrogate Watts…police procedural fans will enjoy being immersed in the action at every critical moment." —Publishers Weekly

"Glatt thoroughly describes every detail of the case. Favoring a straight telling of the facts over analysis of the crime, Glatt leaves readers to draw their own conclusions…[a] gripping read." —Library Journal

Praise for John Glatt:

"Chilling." —People Magazine for My Sweet Angel

"The murder case John Glatt recounts in lurid detail...is too bizarre for a work of fiction." —New York Times Book Review for The Prince of Paradise

"Thoroughly researched and thoroughly disturbing." —Booklist for The Family Next Door

"This chilling portrayal of abuse and secrecy may leave readers looking differently at their neighbors." —Publishers Weekly for The Family Next Door