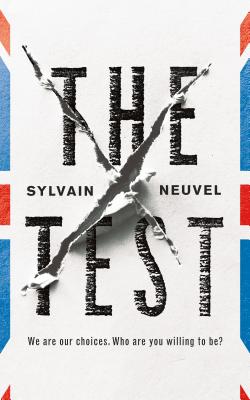 $11.99
Currently Out of Stock - Available to Ship From Our Warehouse in 3-5 Days
Staff Reviews
---
In a future too close for comfort, The Test follows Idir as he takes his British citizenship test. The fate of his family depends on his performance and of course, things are not as simple as they may seem. The stakes are high in this intense sci-fi thriller which, despite its brevity, manages to touch on many of the great ethical conundrums of our time. An excellent summer read!
— From
Amelia
Description
---
Award-winning author Sylvain Neuvel explores an immigration dystopia in The Test

Britain, the not-too-distant future.
Idir is sitting the British Citizenship Test.
He wants his family to belong.
Twenty-five questions to determine their fate. Twenty-five chances to impress.
When the test takes an unexpected and tragic turn, Idir is handed the power of life and death.
How do you value a life when all you have is multiple choice?
About the Author
---
Sylvain Neuvel has taught linguistics in India, and worked as a software engineer in Montreal. He is also a certified translator, though he wishes he were an astronaut. His girlfriend would have him believe that he has too many toys, so he writes about aliens and giant robots as a blatant excuse to build action figures (for his son, of course). His debut, Sleeping Giants, was described by NPR as "one of the most promising series kickoffs in recent memory."
Praise For…
---
Praise for The Test:
"Thought-provoking and disturbing. A cautionary tale illuminated with dark enlightenment."—Kirkus reviews, starred review.
Praise for the Themis Files
"As high-concept as it is, Sleeping Giants is a thriller through and through. . . . Not only is Sleeping Giants one of the most promising series kickoffs in recent memory, it's a smart demonstration of how science fiction can honor its traditions and reverse-engineer them at the same time."—NPR
"But the most surprising thing about the book may just be how compelling the central characters are in the midst of these larger-than-life concepts. . . . I can't stop thinking about it."—The Chicago Review of Books
"Reminiscent of The Martian and World War Z, Sleeping Giants is a luminous conspiracy yarn that shoots for (and lands among) the stars."—Pierce Brown