Famous People: A Novel (Hardcover)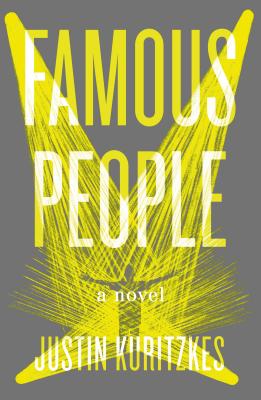 Staff Reviews
---
What an addictive voice!  Told in the first person from the point of view of a 22-year-old Justin Bieber-like pop star, this meditation on fame is funny and deep in equal measure.  I smiled a lot reading this book.  Then I would turn a page and find myself pausing at a spot-on tragic observation that took my breath away.  The child star recalls his journey to fame, how it affected his family, his relationships, and his fans. In a parallel story, his first girlfriend (also a child star) has a completely different experience of fame (picture Miley Cyrus) entirely based on the burden of her gender.  The narrator assumes you picked up the book because you wanted to know more about his life, like we do all our favorite celebrities.  A lot of time is spent in reflection on this relationship: why are we so emotionally effected by the lives of people we will never know, living lives that we can't really imagine?  
— Kelly
Description
---
This fresh, smart novel in the guise of a celebrity memoir probes the inner life of a mega-famous pop star
Honestly, what amazes me the most with a lot of the people I meet is that they think they're so big. They think, ultimately, that the universe revolves around them. And I'm beginning to think that it's only when you live a life like mine—it's only when you're in a position where you don't even really own yourself, when you can't even really say that you're a citizen of any particular country—that you realize that we're all just tiny pieces of cosmic dust floating through the void until we disappear forever and we're never heard from again.
So begins the life story of our uber famous twenty-two year old narrator. A teen idol since he was twelve, when a video of him singing went viral, his star has only risen since. Now, haunted by the suicide of his manager-father, unsettled by the very different paths he and his teenage love (and girl pop-star counterpart) "Mandy" have taken, and increasingly aware that he has signed on to something he has little control over, he begins to parse the divide that separates him from the "normal people" of the world.
Sneakily philosophical, earnest and funny, Justin Kuritzkes's Famous People is a rollicking, unforgettable look at the clash between fame and the human condition.
About the Author
---
Justin Kuritzkes was born in Los Angeles and lives in New York. Productions of his plays have been staged by The New Group, JACK, and Actors Theatre of Louisville. He is known on the internet for his "Potion Seller" video and for his pop album, "Songs About My Wife." He has been awarded residencies from Yaddo, the MacDowell Colony, and the Edward F. Albee Foundation. Famous People is his first novel.
Praise For…
---
"[I've] been familiar with Kuritzkes's looping, philosophical humor for a while. . . .Famous People is one monologue, dipped in a vat of vocal fry and ego death. . . entertaining and sort of heartbreaking." --The New Yorker, 'What We're Reading This Summer'
"Kuritzkes's clever debut is a hilarious probing social commentary... Kuritzkes flawlessly strikes the right balance between searing and comedic as his narrator searches for the true meaning of being a normal person while being famous. This is an incisive and fresh debut." --Publishers Weekly

"Kuritzkes' novel feels modern and original, capturing the bizarre life, thoughts, and rationalizations of
someone who came of age in front of an audience." --Booklist
"A thoughtful, subtly structured exploration of fame and its discontents." --Kirkus
"Famous People is a hysterical, moving and uncanny portrait of premature fame. It perfectly captures a voice we rarely read: articulate but non-academic, profound but shallow, superior but curious. It's an extraordinary character, brilliantly conceived." --Jesse Eisenberg, Academy-award nominated actor and author of Bream Gives Me Hiccups

"Framed as a memoir, Famous People is told with a voice so real you'll have to remind yourself that it's a novel. Justin Kuritzkes has come up with something new in this, something relevant, maybe even prescient. This is a story fit for our times." --Nico Walker, author of Cherry