Pride of Eden: A Novel (Hardcover)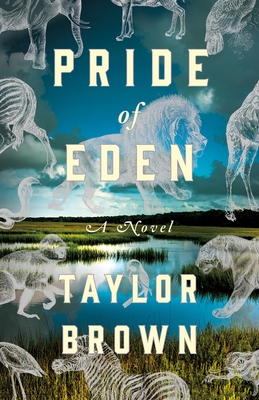 Staff Reviews
---
Anse Caulfield runs a refuge for exotic wildlife called Little Eden on the Georgia coast. He is joined by Malaya, a former soldier, Tyler, his lover and veterinarian, and Lope, an expert in falconry. Most of the animals have been rescued from abandonment, abuse, bankrupt zoos and circuses, though not always through legal means. I've been a big Taylor Brown fan since his first book and this one is without a doubt his best. An incredibly unique plot with badass characters fighting against a seedy underworld of people looking to exploit incredible animals.
— From
Carl
Description
---
The enthralling new novel from the acclaimed author of Fallen Land, The River of Kings, and Gods of Howl Mountain

Retired racehorse jockey and Vietnam veteran Anse Caulfield rescues exotic big cats, elephants, and other creatures for Little Eden, a wildlife sanctuary near the abandoned ruins of a failed development on the Georgia coast. But when Anse's prized lion escapes, he becomes obsessed with replacing her—even if the means of rescue aren't exactly legal.

Anse is joined by Malaya, a former soldier who hunted rhino and elephant poachers in Africa; Lope, whose training in falconry taught him to pilot surveillance drones; and Tyler, a veterinarian who has found a place in Anse's obsessive world.

From the rhino wars of Africa to the battle for the Baghdad Zoo, from the edges of the Okefenokee Swamp to a remote private island off the Georgia coast, Anse and his team battle an underworld of smugglers, gamblers, breeders, trophy hunters, and others who exploit exotic game.

Pride of Eden is Taylor Brown's brilliant fever dream of a novel: set on the eroding edge of civilization, rooted in dramatic events linked not only with each character's past, but to the prehistory of America, where great creatures roamed the continent and continue to inhabit our collective imagination.
About the Author
---
TAYLOR BROWN grew up on the Georgia coast. He has lived in Buenos Aires, San Francisco, and the mountains of western North Carolina. He is the recipient of the Montana Prize in Fiction and a finalist for the Southern Book Prize. His novels include Fallen Land, The River of Kings, and Gods of Howl Mountain. He lives in Savannah, Georgia.
Praise For…
---
"Pride of Eden is intimate in detail and thematically epic. Beautifully written and hard to put down, this book fairly bursts with a sense of place so rich you feel as if you are stepping into this lush world and characters—including the animals—with whom you don't want to stop spending time. Taylor Brown has firmly established himself as one of our finest novelists." —Silas House, author of Southernmost

"In prose that sings, Taylor Brown has written a crackling and propulsive new myth of environmentalism. Pride of Eden is an ode to all that is fierce, wild and resilient in this shifting world of ours, and a reminder to fight hard for the things we love." —Robin MacArthur, author of Half Wild and Heart Spring Mountain

"'Atavistic' is one way to describe Pride of Eden. 'Fantastic' is another. Because Taylor Brown has accomplished something truly unique with this remarkable novel, telling a story that's both gripping and tender, with prose as savagely beautiful as the apex predators it celebrates. Pride of Eden is simply a pleasure to read." —Dane Huckelbridge, author of No Beast So Fierce

"Pride of Eden is a beautifully written, visionary novel of scarred souls seeking redemption not only for themselves but, in their limited way, for us all. Taylor Brown is clearly one of the best American writers of his generation. We are fortunate to have his voice in these dark times." —Ron Rash, author of Serena and Eureka Mill

"...what makes this riveting nail-biter most impressive is Brown's knowledge and passion." —Booklist

"Couched in a thrilling narrative, Brown's heartbreaking yet hopeful message of humanity's moral responsibility for the natural world and its magnificent creatures will linger with readers." —Publishers Weekly