You'd Be Mine: A Novel (Hardcover)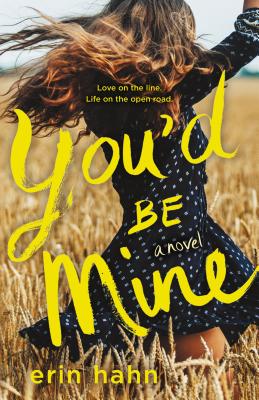 Staff Reviews
---
Reads like a sun drenched, whiskey soaked country love song. Both Clay and Annie have back stories that will add tears to your beers, but their romance has a sweetness that keeps it in the Young Adult genre even if it's knocking on the New Adult door. I don't even like country music all that much, but this book had me looking up Country Music for Beginners Playlists on Reddit and talking with a lot more twang than usual. Recommend reading this in the cool shade of a willow tree while sipping a glass of sweet tea.
— From
Katie
Description
---
One of Oprah.com's "Best Romance Novels of 2019"!

"If you're still obsessing over A Star Is Born (because, same) you'll love this new romance novel by Erin Hahn." - Cosmopolitan
Annie Mathers is America's sweetheart and heir to a country music legacy full of all the things her Gran warned her about. Superstar Clay Coolidge is most definitely going to end up one of those things.
But unfortunately for Clay, if he can't convince Annie to join his summer tour, his music label is going to drop him. That's what happens when your bad boy image turns into bad boy reality. Annie has been avoiding the spotlight after her parents' tragic death, except on her skyrocketing YouTube channel. Clay's label wants to land Annie, and Clay has to make it happen.
Swayed by Clay's undeniable charm and good looks, Annie and her band agree to join the tour. From the start fans want them to be more than just tour mates, and Annie and Clay can't help but wonder if the fans are right. But if there's one part of fame Annie wants nothing to do with, it's a high-profile relationship. She had a front row seat to her parents' volatile marriage and isn't interested in repeating history. If only she could convince her heart that Clay, with his painful past and head over heels inducing tenor, isn't worth the risk.
Erin Hahn's thrilling debut, You'd Be Mine, asks: can the right song and the perfect summer on the road make two broken hearts whole?
"Witty and charming, with an off-the-charts, irresistible blend of romance, humor, and characters who steal your heart from page one. Erin Hahn is an author to watch." - Karen M. McManus, New York Times bestselling author of One of Us Is Lying
About the Author
---
ERIN HAHN is the author of You'd Be Mine and More Than Maybe. She teaches elementary, would rather be outside, and makes a lot of playlists. So many playlists, in fact, that she decided to write books to match them! She married her very own YA love interest, who she met on her first day of college, and has two kids who are much, much cooler than she ever was at their age. She lives in Ann Arbor, Michigan, a.k.a. the greenest place on earth, and has a cat named Gus who plays fetch and a dog named June who doesn't.
Praise For…
---
Bustle, "11 Upcoming Romantic YA Novels That Might Just Be Your New Favorite Rom-Com"
Buzzfeed, "23 YA Romance Novels That Are Better Than A Candlelit Dinner"
Cosmopolitan.com, "15 Books Coming Out in 2019 to Bring to Your Book Club"
Insider, "20 new books coming out in 2019 you'll want to read"
PopSugar, "20 Heartbreaking and Beautiful YA Romance Novels to Keep You Swooning All Summer Long"
School Library Journal, "Love Is In The Air: YA Romances To Look Forward to This Spring"
She Reads, "Most Anticipated Romance Books of 2019"
Bookbub, "Most Anticipated Book Club Books of Spring!"
The Nerd Daily, "April Book Releases: YA"
"If you're still obsessing over A Star Is Born (because, same) you'll love this new romance novel by Erin Hahn." - Cosmopolitan
"The palpable endearment for its setting and characters makes for a warm read. [A] good ol' fashioned love story. There's something to be said for a song we all know being sung with tenderness and care. A solid romance buoyed by engaging protagonists and a charming backdrop." - Kirkus
"I loved every delicious page of Erin Hahn's stunning debut! Reading like a country song blended with your favorite romance novel, You'd Be Mine packs an emotional punch while delivering plenty of sighs. For Fans of: Authors who blend music and sighs, like Katie Cotugno and Morgan Matson." - Paste Magazine
"Debut author Erin Hahn's You'd Be Mine is a YA romance that uses all the trappings of the genre to build an engrossing, moving story about addiction, emotional health and fame, with a whole lot of fun and romance thrown in. You'd Be Mine perfectly balances the brutal with a lot of beautiful and shines with good humor, Southern sensibilities, and a great love of music." -- Shelf Awareness
"Teen country stars? Check. The bad boy and the good girl? Check. First love? Check. If A Star is Born and Nashville had a baby, it would be this book. All the swoony rockstar vibes with the innocence of remembering the first time you fell in love. Do yourself a favor and add this one to your list now – it was five stars for me!" - She Reads
"[A] layered and fun romance...Readers do not have to be fans of country music in order to root for Annie and Clay to find their way to love." - School Library Journal
"Unputdownable from page one, You'd Be Mine is a pitch perfect romance for fans of Kasie West and Katie McGarry. Hahn's writing is a shot of whiskey: warm, biting, and totally dangerous. This book is so good, it'll inspire even the staunchest Yanks to put on cowboy boots." - Lily Anderson, author of Indie Next pick, Not Now, Not Ever and The Only Thing Worse Than Me is You
"Brighten the spotlight on Erin Hahn's debut novel. You'd Be Mine will have you tapping your toes, swoonin' and hummin' along, all while plucking at your heartstrings." - Elizabeth Eulberg, author of Just Another Girl
"Witty and charming, with an off-the-charts, irresistible blend of romance, humor, and characters who steal your heart from page one. Erin Hahn is an author to watch." - Karen M. McManus, New York Times bestselling author of One of Us Is Lying
"You'd Be Mine is one of the most touching, swoon worthy books I've read in ages. Hahn hits all the right notes: romance, friendship, family, and self-discovery." - Ali Novak, author of The Heartbreak Chronicles