Wild Bill: The True Story of the American Frontier's First Gunfighter (Hardcover)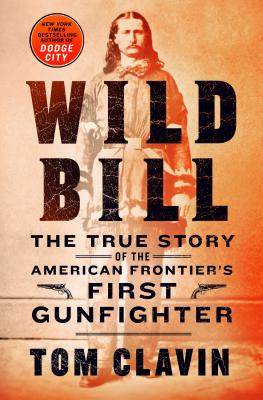 Staff Reviews
---
A lot has been written and said about Wild Bill Hickok, one of America's first big post-Civil War celebrities, that it has become hard to separate truth from the reality of the man. The fastest gunslinger in the West became something of a legend in the mid-late 1860s when he first gained national attention and though many of the stories are very fabricated, Tom Clavin shows us that even the truths about the man are pretty impressive. He played many roles in his life, farmer, wagon driver, scout, solider, US Marshall, constable, but regardless of what he was up to, he was always in the thick of it, prone to and unafraid of danger. An exciting account of an exciting character!
— From
Carl
Description
---
The definitive true story of Wild Bill, the first lawman of the Wild West, by the #1 New York Times bestselling author of Dodge City.

In July 1865, "Wild Bill" Hickok shot and killed Davis Tutt in Springfield, MO—the first quick-draw duel on the frontier. Thus began the reputation that made him a marked man to every gunslinger in the Wild West.
James Butler Hickock was known across the frontier as a soldier, Union spy, scout, lawman, gunfighter, gambler, showman, and actor. He crossed paths with General Custer and Buffalo Bill Cody, as well as Ben Thompson and other young toughs gunning for the sheriff with the quickest draw west of the Mississippi.
Wild Bill also fell in love—multiple times—before marrying the true love of his life, Agnes Lake, the impresario of a traveling circus. He would be buried however, next to fabled frontierswoman Calamity Jane.
Even before his death, Wild Bill became a legend, with fiction sometimes supplanting fact in the stories that surfaced. Once, in a bar in Nebraska, he was confronted by four men, three of whom he killed in the ensuing gunfight. A famous Harper's Magazine article credited Hickok with slaying 10 men that day; by the 1870s, his career-long kill count was up to 100.
The legend of Wild Bill has only grown since his death in 1876, when cowardly Jack McCall famously put a bullet through the back of his head during a card game. Bestselling author Tom Clavin has sifted through years of western lore to bring Hickock fully to life in this rip-roaring, spellbinding true story.
About the Author
---
TOM CLAVIN is a #1 New York Times bestselling author and has worked as a newspaper and web site editor, magazine writer, TV and radio commentator, and a reporter for The New York Times. He has received awards from the Society of Professional Journalists, Marine Corps Heritage Foundation, and National Newspaper Association. His books include The Heart of Everything That Is, Halsey's Typhoon, and Reckless. He lives in Sag Harbor, NY.
Praise For…
---
"Clavin, a wily veteran of the writing trade, tacks up the truth like wanted posters in every chapter, while simultaneously savoring a few of the more fanciful falsehoods along the way, a neat trick in which he displays some ambidexterity of his own." —New York Times Book Review

"A vigorous yarn....Clavin writes fluently and often entertainingly of a man shrouded in legend while being all too human." —Kirkus Reviews

"Well written, full of vivid characters, and detailed. Fans of the Old West and the HBO show Deadwood will appreciate the wild ride." —Booklist
"Rollicking...an entertaining tale of the man and the legend." —Publishers Weekly
"Fascinating...a page-turner that may keep the reader up late at night." —The Oklahoman

"Wild Bill will appeal to readers with a fascination for American history, particularly those with an interest in post-Civil War westward expansion. But to a wider audience that has grown up with a romanticized and possibly sanitized version of this slice of America's story, Clavin's book will offer a well-researched, entertaining, and more realistic version of America's past."—The Missourian

"Tom Clavin...gives a nod to every gunslinger and scout of Hickok's time, and if that's not catnip to Western fans, nothing is. this book sweeps cross-country, around Indian villages and through decades as it busts myths and sets records straight, pulling readers into cowtowns and across prairies and putting mistruths to rest. That allows this to be more than strictly a history book: Clavin can also make this tale seem as comfortable as a Saturday afternoon sofa-and-blanket-session with an old black-and-white western. Absolutely, "Wild Bill" is for fans of the Wild West, and it should also speak to anyone who likes frontier adventure. Look at that cover again. It should spur you to action." —Times Record