Surviving Adam Meade (Hardcover)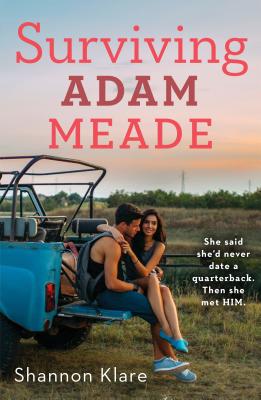 Description
---
Seventeen-year-old Claire Collins has a plan: get into college and leave North Carolina behind. What she doesn't have is an idea for how to get rid of the local football star and womanizer extraordinaire—Adam Meade, who she can't even avoid (despite many efforts), because Claire's dad is the high school football coach.
Seventeen-year-old Adam Meade never fails. He always gets what he wants . . . until he meets Claire, the new girl who leaves him unnerved, pissed off, and confused. But there's something about her that he just can't resist . . .
With the bite of lemon meringue pie and the sugar of sweet tea, Surviving Adam Meade is a sexy and compelling young adult novel about two strong-willed people who think they know what they want but have no idea what they need.
Praise for Surviving Adam Meade:
"I loved the sarcasm and the humor. I can relate to this story... so it was a lovely read." —Catherine Cadwell, reader on SwoonReads.com
"This is an amazing story where you don't realize you've fallen for the characters until it's too late." —DemoGod_ShadowHunter, reader on SwoonReads.com
"The humor and wit is clever, the relationships ring true, and the emotions are deep." —4thPowerMama, reader on SwoonReads.com
About the Author
---
Shannon Klare was born and raised in Texas. As a teenager, she lived near Lubbock. She is the author of Surviving Adam Meade.
Praise For…
---
Praise for Surviving Adam Meade, from our Swoon Readers:
"I love this story! The high school factor is amazing. I can't wait to read more." —Baileysena97, reader on SwoonReads.com
"I loved the sarcasm and the humor. As a current high school student, I can relate to this story extremely well, so it was a lovely read." —Catherine Cadwell, reader on SwoonReads.com
"I loved all the characters and the plot. The way it all came together was amazing. The best book I've read in a long time." —Emkeyes16, reader on SwoonReads.com
"This is an amazing story where you don't realize you've fallen for the characters until it's too late." —DemoGod_ShadowHunter, reader on SwoonReads.com
"The humor and wit is clever, the relationships ring true, and the emotions are deep. Definitely a binge worthy read. I couldn't put it down!" —4thPowerMama, reader on SwoonReads.com