Unstoppable Moses: A Novel (Hardcover)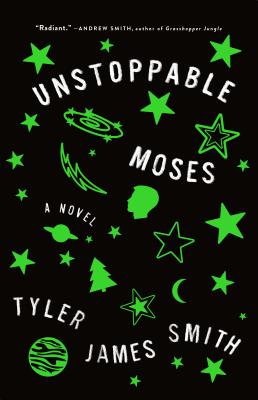 Staff Reviews
---
It's the coming-of-age novel you didn't know you were waiting for.  Moses Hill and his instigating cousin become accidental arsonists in their small town where they are already somewhat notorious.  This time things go too far and Moses, whose only dream is to get out of this small Midwestern town and go to the exotic land of Duke University, is left burdened by feelings of guilt, anger, and the odd sensation of being supernaturally protected from death and injury.  He gets a second chance when he gets an opportunity to be a camp counselor to expunge his criminal record so he can apply to Duke.  Can he get through even this without screwing it up?  The story is masterfully told in the hands of this debut novelist.  I wanted to smack Moses in the head about a hundred times when I read it.  And he's not real, people!  That's what great writing can do. 
— Kelly
Description
---
In this coming-of-age debut, a seventeen-year-old boy has one week in the aftermath of a disastrous prank to prove to the authorities, and to himself, that he's not a worthless jerk who belongs in jail.
Moses and his cousin Charlie were best friends, wisecracking pranksters, unstoppable forces of teenage energy—until the night they became accidental arsonists and set in motion a chain of events that left Moses alone, guilt-stricken, and most likely trapped in his dead-end town.
Then Moses gets a lucky break: the chance to volunteer as a camp counselor for week and prove that the incident at the bowling alley should be expunged from his record. And since a criminal record and enrollment at Duke are mutually exclusive, he's determined to get through his community service and get on with his life. But tragedy seems to follow him wherever he goes, and this time, it might just stop him in his tracks.
"Unstoppable Moses is radiant; one of those rare debut novels that shines with humor, love, compassion, and hope, with a cast of unforgettable characters that jump off the pages and into your heart. Tyler James Smith is a masterful storyteller."
—Andrew Smith, Printz Honor and Boston Globe-Horn Book Award-winning author of Grasshopper Jungle

"When people say reading makes us more empathetic, they are talking about books like Unstoppable Moses by Tyler James Smith. A lyrical, hilarious, so-real-it-hurts debut that reminds us all just how much we have to lose, and why it's important to never give up. I'm so happy this book is in the world."
—Bonnie-Sue Hitchcock, Morris Honor-winning author of The Smell of Other People's Houses
About the Author
---
Tyler James Smith attended Western Michigan University and after a stint as a mailman, is now an aide in a therapeutic school. He still uses AOL. Unstoppable Moses is his debut novel.
Praise For…
---
New York Times New and Noteworthy Book
"A deftly crafted and inherently riveting read from first page to last, Unstoppable Moses by Tyler James Smith is an extraordinary and unreservedly recommended addition to school and community libraries." —Midwest Book Review
"Unstoppable Moses is radiant; one of those rare debut novels that shines with humor, love, compassion, and hope, with a cast of unforgettable characters that jump off the pages and into your heart." —Andrew Smith, author of Grasshopper Jungle

"When people say reading makes us more empathetic, they are talking about books like Unstoppable Moses. A lyrical, hilarious, so-real-it-hurts debut that reminds us all just how much we have to lose, and why it's important to never give up. I'm so happy this book is in the world." —Bonnie-Sue Hitchcock, author of The Smell of Other People's Houses

"In this highly introspective debut novel set during the aftermath of a prank gone terribly wrong, Smith persuasively and empathically portrays Moses's conflicting emotions as he comes to terms with a traumatic event. This thought-provoking, gut-wrenching novel presents human nature as it is instead of as it should be." —Publishers Weekly
"Perfect for high school students who love John Green and Jesse Andrews." —School Library Journal

"Smith's style is reminiscent of John Green's oeuvre. Balances the characters' tragic stories with offbeat humor and deftly timed pop culture references...an enjoyable read for any fan of contemporary YA fiction." —ALA Booklist

"A Midwestern teen struggles with loss, guilt, and finding his place in the world without his best friend in this character-driven novel...Smith weaves between past and present, exploring growth and personal relationships in this emotional debut." —Kirkus Reviews