Never Let You Go: A Novel (Paperback)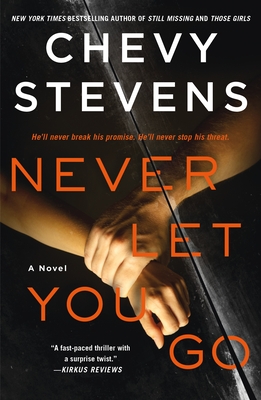 Staff Reviews
---
Fans of Stevens' previous thrillers will love this one! Lindsey has started a new life after escaping Andrew, her abusive ex. Her teenage daughter remembers little of the family's turbulent past and doesn't understand the need for Lindsey's secrecy. When Andrew is released from prison, small but terrifying things start to happen to Lindsey, her daughter, and Lindsey's new boyfriend. Andrew swears he's changed but we all know a leopard doesn't change his spots - or does he? This is a nail biter, y'all.
— From
Andi
March 2017 Indie Next List
---
"Ten years ago: Lindsay Nash is trapped in an abusive marriage with a man who has threatened to kill her if she runs. Today: Lindsay is a successful small-business owner and a single mom raising her teenage daughter. When her ex-husband is released from jail, however, the terror starts all over again as Lindsay and her daughter are stalked and skillfully manipulated. Her ex swears it isn't him - but is there any chance he has really changed? This fast-paced thriller will leave you guessing right up to the end!"
— Carrie Deming (W), The Dog Eared Book, Palmyra, NY
Description
---
A stunning and thrilling novel from the New York Times bestselling author of Still Missing.
Eleven years ago, Lindsey Nash escaped into the night with her young daughter and left an abusive relationship. Her ex-husband, Andrew, was sent to jail and Lindsey started over with a new life.
Now, Lindsey is older and wiser, with her own business and a teenage daughter who needs her more than ever. When Andrew is finally released from prison, Lindsey believes she has cut all ties and left the past behind her. But she gets the sense that someone is watching her, tracking her every move. Her new boyfriend is threatened. Her home is invaded, and her daughter is shadowed. Lindsey is convinced it's her ex-husband, even though he claims he's a different person. But has he really changed? Is the one who wants her dead closer to home than she thought?
With Never Let You Go, Chevy Stevens delivers a chilling, twisting thriller that crackles with suspense as it explores the darkest heart of love and obsession.
"Stevens's taut writing and chilling depiction of love twisted beyond recognition make this a compelling read." —Publishers Weekly, Starred Review

"Disturbing, suspenseful, and just a little nerve-wracking." —Library Journal
About the Author
---
Chevy Stevens is the author of Still Missing and Never Knowing. Before becoming a writer, she worked as a realtor. When she held open houses, she had a lot of time waiting by herself between potential buyers, and Stevens would spend this time scaring herself with all the things that could happen to her. The most terrifying scenario she thought up became the story behind Still Missing. Stevens grew up on a ranch on Vancouver Island, and she still calls the island home. When she's not writing, she's hiking with her husband and her dog in the local mountains.