Nine Inches: Stories (Paperback)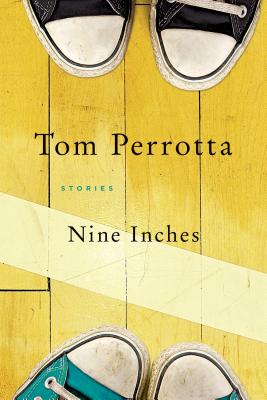 Description
---
The new collection from the New York Times bestselling author of The Leftovers and Little Children, featuring stories focusing on Tom Perrotta's familiar suburban nuclear families

Nine Inches, Tom Perrotta's first true collection, features ten stories—some sharp and funny, some mordant and surprising, and a few intense and disturbing.

Whether he's dropping into the lives of two teachers—and their love lost and found—in "Nine Inches", documenting the unraveling of a dad at a Little League game in "The Smile on Happy Chang's Face", or gently marking the points of connection between an old woman and a benched high school football player in "Senior Season", Perrotta writes with a sure sense of his characters and their secret longings.

Nine Inches contains an elegant collection of short fiction: stories that are as assured in their depictions of characters young and old, established and unsure, as any written today.
About the Author
---
Tom Perrotta is the author of several works of fiction: Bad Haircut, The Wishbones, Election, and the New York Times bestselling Joe College and Little Children. Election was made into the acclaimed 1999 movie directed by Alexander Payne and starring Matthew Broderick and Reese Witherspoon. Little Children was released as a movie directed by Todd Field and starring Kate Winslet and Jennifer Connelly in 2006, and for which Perrotta received Golden Globe and Academy Award nominations for best screenplay. He lives outside of Boston, Massachusetts.
Praise For…
---
"The acclaimed novelist displays perfect tonal pitch in this story collection, as nobody explores the darker sides of suburbia with a lighter touch." —Kirkus Reviews (starred)

"Told with wit and grace, Perrotta's story collection lays bare the shifting relationships we all suffer and seldom comprehend, presenting characters who are ambushed by the hidden intentions of people they thought they knew." —Publishers Weekly

"In this strong collection of short stories, Perrotta once again peeks behind the living-room curtains of manicured suburbia and imagines characters whose lives are less than tidy." —People

"[A] wickedly funny collection of suburbia-skewering stories." —Harper's Bazaar

"Perrotta's stuff is dark, but it goes down so easy, especially when bite-size." —New York magazine

"The novelist who so perfectly captured the insanity of suburbia in The Leftovers and Little Children returns to the form that made him famous in this darkly comic collection of stories." —Entertainment Weekly

"The stories hang together so beautifully, the writing is so stylistically consistent, and the themes are so closely related, the book comes across like a novel, or a collection of interlocking stories. It's as if we're wandering through a single community in a particular town, as in James Joyce's "Dubliners" or in so many of Ann Beattie's and Raymond Carver's collections. We're in PerrottaWorld, where the stories and characters and their concerns all seem to rhyme with one another." —Boston Globe

"Perrotta fixates on small-town types whose complex quirks make them not extraordinary or noble but average; what is extraordinary is Perrotta's empathic insight into how his characters cope--or, short of that, forget." —Elle

"The descendant of such chroniclers of small-town America as Thornton Wilder, John O'Hara, and Willa Cather...Perrotta's language never announces itself; it recedes into the background, allowing the characters, with their convincing and contemporary dialogue, to drive the narrative in a way that sounds organic and true." —New York Times

"Tom Perrotta has proven time and again that he has a tremendous gift for telling darkly comedic tales of suburban ennui, as seen through the eyes of a seemingly endless stable of hilariously sad (and sadly hilarious) protagonists. Perrotta's latest book, an ingratiating collection of sublimely paced short stories, filled with masterful character sketches and comically vexatious scenarios, extends his streak." —Time Out

"The ray of light in Perrotta's new stories comes from his characters' belated recognition of their foibles and failures, and their earnest and quintessentially American yearning to do better." —National Public Radio