Short-Term/Vacation Rentals Investments Made Easy: 6 Golden Rules To Create A Real Profitable Business And Avoid Common Pitfalls (Paperback)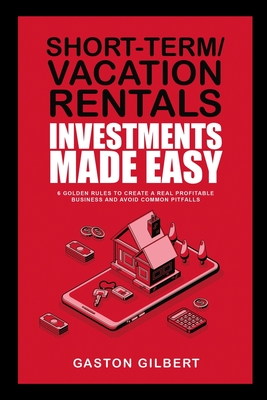 $9.99

Comes From Our Warehouse - Usually Ships in 3-10 Days
Description
---
Have you been toying with the idea of investing in vacation or short-term rentals for a while and have possibly started, but the initial experience hasn't been so great?
And are you looking for a guide that will help you get started with vacation rentals confidently, knowing fully well how to keep your costs low, maximize profits, give your guests an amazing experience, and more?
If you've answered YES, keep reading...
You Are About To Discover Exactly How To Create A Real Profitable Vacation Rental Business, Avoid Common Pitfalls, And Achieve Impressive Levels Of Success
As more people choose to stay in vacation/short term rentals over hotels and short term booking platforms keep becoming more popular, the time to get into the short term rental business has never been better.
Think about it, when the pandemic is over, more than ever, people will want to visit places they have wished to visit, and the trend will continue into the foreseeable future.
The fact that you are here means you are already sold to the idea of investing in short term rentals, as you've seen how it can transform ordinary people to 'hotel' owners, accepting guests from all over the world for short term stays in their properties.
Perhaps you are here looking for answers to all the questions in your mind...
What do you need to understand inside out if you really want to set yourself up for success from the beginning?
How do you market your property so you can have a steady stream of guests?
How do you increase the chances of guests having a great experience that makes them leave positive reviews?
How do you manage the business effortlessly so it does not disrupt your other schedules while ensuring you keep your profits high?
How do you keep your costs low and maximize income and profits?
If you have these and other related questions, this book is for you, as it covers 6 golden rules that, if implemented well, will ensure you excel at short term rental business.
More precisely, you will learn:
- The things you need to know as you get started in the short term rental space to set your business up for success
- Some cost items you need to know about regarding vacation rentals and why you should know about them
- Powerful creative tips on how to keep your expenses low
- How to maximize your income by applying 5 powerful strategies proven to work
- How to reduce the burden of managing your short term rental off your shoulders without spending a fortune while at it
- Effective ways to optimize your property protection plan
- How to take it further and scale your business
- Mistakes you should avoid along the way to keep your business going and profitable
- And much more
Even if you've never invested in anything closely related, this book will teach you everything you need to know to excel at short term rentals.