Perspectives on Morality and Human Well-Being: A Contribution to Islamic Economics (Islamic Economics S) (Paperback)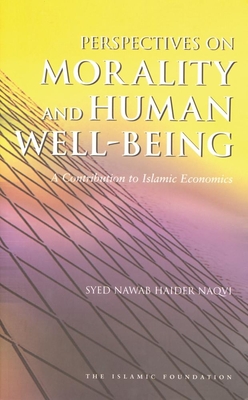 $27.95

Comes From Our Warehouse - Usually Ships in 3-10 Days
Description
---
This book explores in detail the proposition that (private) morality, especially religious morality, is vital for achieving economic well-being and human happiness; and that this linkage would be even stronger in an Islamic economy. The book highlights the need for an active interaction between religion, morality and economics in general and in an (idealized) Islamic economy in particular.
Professor Syed Nawab Haider Naqvi has an MA from Yale University and a PhD from Princeton University. He did his post-doctoral work at Harvard University.
About the Author
---
Professor Syed Nawab Haider Naqvi, at present President Institute for Development Research, is M.A. from Yale University and Ph.D from Princeton University. He did his Post doctoral work at Harvard University. He was Director of the Pakistan Institute of Development Economics, Islamabad (1979 - 1995) (in BPS 22); the founder-President of the Pakistan Society of Development Economists, which is an international professional society devoted to promoting development economics (1983 - 1995); the Editor of Pakistan Development Review, quarterly international journal of development economics (1979 - 1995); and National Professor of Economics (1993 - 1995). During a rich and distinguished career, he has taught at the Norwegian School of Economics and Business Administration (1969), and the Christian Michelson Institute of Economics (1969). He was OECD Visiting Professor at the Middle East Technical University, Ankara (1972 - 75); Visiting Professor at Heidelberg University (1977); and Professor of Economics and Chairman, Quaid-i-Azam University, Islamabad (1975 - 1981). A prolific author, Professor Naqvi has published 48 books and monographs and 100 articles in the area of macro-econometric modelling, trade policy, development economics, agricultural economics, and Islamic economics.