Fires in the Mirror (Paperback)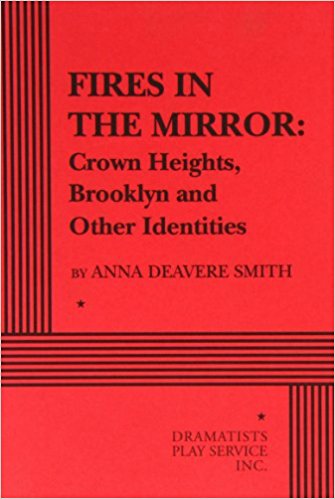 $9.99
Not available for purchase
Description
---
Full Length, Drama
1 woman (originally written to be performed by one, but flexible casting now available)
Total Cast: 1, Flexible Set

In 1991, in the Crown Heights section of Brooklyn, an Hasidic man's car jumped a curb, killing Gavin Cato, a seven-year-old black child. Later, in what appears to have been an act of retaliation on the part of a faction of the black community, Yankel Rosenbaum, an Hasidic rabbinical student, was stabbed and killed. The ensuing riots that wracked Crown Heights' previous atmosphere of tolerance for its divergent cultures made national headlines and pointed to the growing friction in racial and cultural relations across America. Drawing verbatim from a series of over fifty interviews with Crown Heights' residents, politicians, activists, religious leaders, gangs, street dwellers, victims and perpetrators alike, Anna Deavere Smith has created a theatrical event distilling the lives and voices of twenty-six of the incident's survivors into a visionary amalgam, the import of which touches upon every American regardless of race, color or beliefs.
About the Author
---
Anna Deavere Smith is an actor, teacher, playwright, and creator of unique one-woman plays based on interviews. Anna Deavere Smith has won two Obie Awards, two Tony nominations for TWILIGHT: LOS ANGELES, and a MacArthur Fellowship. A Pulitzer Prize finalist for her play FIRES IN THE MIRROR, Ms. Smith is founder and director of the Institute on the Arts and Civic Dialogue at New York University. As an actress she has appeared in many films and on the television series "West Wing." Her book "Letters to a Young Artist" is published by Anchor Books. http://www.annadeaveresmithworks.org/
Praise For…
---
Revolving around the riots that occurred after two killings, this play takes a searing look at the misunderstandings of, and sympathies between, two cultures living in the community of Crown Heights, Brooklyn, New York. "FIRES IN THE MIRROR is, quite simply, the most compelling and sophisticated view of urban racial and class conflict…that one could hope to encounter…spectacular further proof…that the American theater is rising to illuminate these rancorous times with a vitality that may be equaled but is certainly not surpassed by any of our other native arts…" —NY Times. "[Anna Deavere Smith] turns headlines into pure drama." —NY Daily News.