The Art of Falling: A Novel (Hardcover)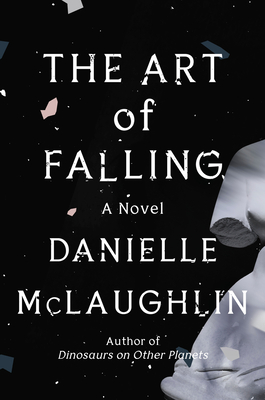 Description
---
In this "delicate slow burn of a novel" (Jan Carson), a woman's marriage and career are threatened by an old indiscretion just as she receives the opportunity of a lifetime—from the award–winning author of the "extraordinary" (Colum McCann) Dinosaurs on Other Planets.

Nessa McCormack's marriage is coming back together again after her husband's affair. She is excited to be in charge of a retrospective art exhibition for a beloved artist, the renowned late sculptor Robert Locke. But the arrival of two enigmatic outsiders imperils both her personal and professional worlds: A chance encounter with an old friend threatens to expose a betrayal Nessa thought she had long put behind her; and at work, an odd woman comes forward with a mysterious connection to Robert Locke's life and his most famous work, the Chalk Sculpture.

As Nessa finds the past intruding on the present, she realizes she must decide what is the truth, whether she can continue to live with a lie, and what the consequences might be were she to fully unravel the mysteries in both the life of Robert Locke and her own. In this gripping and wonderfully written debut, Danielle McLaughlin reveals profound truths about love, power, and the secrets that define us.
About the Author
---
Danielle McLaughlin is the author of the short story collection Dinosaurs on Other Planets. Her stories have appeared in The New Yorker, The Irish Times, The Stinging Fly, and various anthologies. McLaughlin has won the Windham Campbell Prize, the William Trevor/Elizabeth Bowen International Short Story Competition, the Willesden Short Story Prize, the Merriman Short Story Competition in memory of Maeve Binchy, and the Dromineer Literary Festival short story competition. She lives in County Cork, Ireland.
Praise For…
---
"The Art of Falling is a terrific whodunit, but the it is brilliantly elusive; it's not a murder but a sculpture—a different kind of dead body. Who created it? Who inspired it? Who owns it? And—actually—what is it? This is a gripping novel and a sharp, entertaining examination of the nature of art and its power to inspire and corrupt."—Roddy Doyle, author of Love and Paddy Clarke Ha Ha Ha

"McLaughlin's descriptions of the art and its appeal have an almost mythic quality. . . . She has a gift for precise characterization. This engaging and evocative work will stay with readers."—Publishers Weekly (starred review)
 
"There are very few writers who can craft characters with the depth and subtlety Danielle McLaughlin brings to her writing. The Art of Falling is a delicate slow burn of a novel. It is a big novel sitting within a close and small frame; a book of unspoken regrets and long-kept secrets and the slow revelation of humanity. There are shades here of Alice Munro at her finest. Like Munro, McLaughlin is best when writing those quiet moments which resonate long after the event."—Jan Carson, author of The Fire Starters

Praise for Danielle McLaughlin

"In [Danielle] McLaughlin's world, the everyday has the same sparkle—or the same devastation—as a glittering galaxy or a war."—Kirkus Reviews 

"Only an author who loves what human beings are can so compassionately reveal them in all their flawed, gorgeous contradictions and communicate unmistakable joy while doing so. . . . Her fiction is a gift we need."—Robin Black, author of Life Drawing 

"[McLaughlin] focuses on fraught relationships and those sudden, illuminating moments that can light up ordinary lives."—Library Journal 

"A writer of exceptionally deep empathy in the naturalistic tradition of John McGahern and Claire Keegan but with a knack for keen, and often disturbing, observation all her own."—LitHub