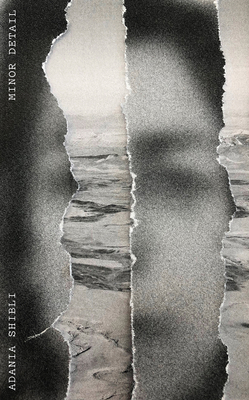 Staff Reviews
---
MINOR DETAIL is split in halves, the first taking place in 1949 at a southern outpost in the Negev Desert, where a platoon of Israeli soldiers guard against enemy invasion while searching for any remaining Arabs to expel from the region. Many years later a woman learns of an atrocity committed in that area 25 years before her birth and travels to the region in search of more information. These two narratives parallel very intelligently and Shibli's exquisite attention to detail and casual reporting style make for some very quiet yet heavy and dangerous storytelling. This is a powerful little book.
— From
Carl
Description
---
A searing, beautiful novel meditating on war, violence, memory, and the sufferings of the Palestinian people



Shortlisted for the National Book Award
Minor Detail begins during the summer of 1949, one year after the war that the Palestinians mourn as the Nakba—the catastrophe that led to the displacement and exile of some 700,000 people—and the Israelis celebrate as the War of Independence. Israeli soldiers murder an encampment of Bedouin in the Negev desert, and among their victims they capture a Palestinian teenager and they rape her, kill her, and bury her in the sand.
Many years later, in the near-present day, a young woman in Ramallah tries to uncover some of the details surrounding this particular rape and murder, and becomes fascinated to the point of obsession, not only because of the nature of the crime, but because it was committed exactly twenty-five years to the day before she was born. Adania Shibli masterfully overlays these two translucent narratives of exactly the same length to evoke a present forever haunted by the past.
About the Author
---
Adania Shibli was born in Palestine in 1974, holds a Ph.D. from the University of East London, and has published three novels in Arabic. She splits her time between Berlin and Jerusalem.

Elisabeth Jaquette is a translator from the Arabic and Executive Director of the American Literary Translators Association (ALTA).
Praise For…
---
An explosive double-telling of a single crime story.... The extreme economies of Shibli's style—blending aphorism and enigma, dry humor and searing critique—recall the novellas of César Aira and Mario Bellatin. In the act of writing such an evocative, tightly wrought fiction, in her invention of such a complex, fighting character who is at once the victim's double and the author's stand-in, Shibli not only reflects the deadening conditions of occupation. She also, crucially, transcends the damage they have done.

Shibli crafts a story that connects strangers to one another through the occupation that has shaped their lives. Nerve-racking and eye-opening.

"Like an affidavit in its egalitarian specificity—every detail of every character's action is accounted for, and therefore scrutinized. A starkly poetic accounting of a crime, its burial, and its exhumation."
— Alia Persico-Shammas

In Adania Shibli's subversively quiet, compelling Minor Detail, threads of connection are embodied in a young woman's quest to find almost erased history. Written in spare, careful language (praise also to translator Elisabeth Jaquette), Shibli helps reclaim what would be obliterated by forces actively at work yet today, doing so with a narrative masterfully carrying both surprise and inevitability within. This book has devastation and loss to a shattering, wrenching degree, and yet. Yes, and yet.
— Rick Simonson

Shibli has created a powerful set of dual heroines, women wracked with disquiet and violence, resisting the frames that have first, been chosen for them, then denied to have ever existed. This is an astonishing, major book.
— John Freeman

An intense and penetrating work about the profound impact of living with violence—Shibli's work is powerful and this translation by Elisabeth Jaquette is rendered with exquisite clarity and quiet control.
— Katie da Cunha Lewin

Though Minor Detail initially promises to be a kind of counterhistory or whodunit—a rescue of the victim's story from military courts and Israeli newspapers—it turns out to be something stranger and bleaker. Rather than a discovery of hidden truths, or a search for justice, it is a meditation on the repetitions of history, the past as a recurring trauma....For Shibli, the emblematic experience of occupation is the longue durée of ennui and isolation rather than the dramatic moment of crisis.

— Robyn Creswell

A palpable sense of dread pulses beneath Minor Detail. In Elisabeth Jaquette's fine translation from Arabic, Shibli asks how we can account for and understand major crimes, by looking more closely for the details that escape.


Startling, cinematic: Shibli's masterly, acidic work of subtle symbolism and plot symmetry gives no access to the thoughts of the Israeli soldiers or their victim, making the Palestinian woman's subsequent first-person narration all the more arresting. This is a remarkable exercise in dramatizing a desire for justice.

Exquisitely powerful: though focused on the finest details—flakes of rust against skin, the softness of grass—Shibli takes readers to the center of a family and a culture, using the same careful, dispassionate observation to report everyday events like the father's shaving as she does to depict the death of a sibling in area violence. Like a great volume of poetry, Shibli's prose has rhythm and unexpected momentum, and cries for rereading.

The terror Shibli evokes intensifies slowly, smouldering, until it is shining off the page...The book is, at every turn, dangerously and devastatingly good.

Palestinian Adania Shibli's cinematic novel stages a return of the repressed on a national scale by reposing an atrocity committed by Israeli soldiers in the Negev region in 1949. An unflinching account of violence and dehumanisation—Shibli breaks new ground. She uses a lyrical, intensely sensory mode to describe how we identify with figures from the past, and especially the restless dead. Brutal, hypnotic and haunting.
— Mireille Juchau

What links these two stories? Borders, of course, but also some weird echoes. The woman from Ramallah sneaks into Israel to find out more, for there may be 'nothing more important than this little detail, if one wants to arrive at the complete truth.'  Shibli delicately suggests that the 'complete truth' of the crime [in Minor Detail] might never be found out, that perhaps the details in the two stories mirror each other because the past isn't even past.

— Yu Miri

A blistering allegory about state violence and the conscription of women's bodies. In its minor details, Shibli's novel offers a piercing account of everyday life for Palestinians living under Israeli occupation. The translation by Elisabeth Jaquette is superb. Minor Detail is a credo for revolution, a major book: tense, propulsive and timely.
— Emily Stewart

Minor Detail can be read as the blackest of black comedies, in orbit about tragedy as rings around a dark planet. The abject is the centre of gravity here, and we may only approach so close before words themselves are crushed.


A short but powerful novel. Shibli interrogates a world of unstable and shifting boundaries and borders, from the Negev Desert a year after the 1948 war to a contemporary version of the tightly controlled lands of Palestine and Israel. Dreamlike, haunting prose.

The most talked-about writer on the West Bank.
— Ahdaf Soueif

Adania Shibli takes a gamble in entrusting our access to the key event in her novel – the rape and murder of a young Bedouin woman – to two profoundly self-absorbed narrators – an Israeli psychopath and a Palestinian amateur sleuth high on the autism scale – but her method of indirection justifies itself fully as the book reaches its heart-stopping conclusion.
— J. M. Coetzee

Adania Shibli's exceptional novel Minor Detail belongs to the genre of the novel as resistance, as revolutionary text. Simultaneously depicting the dehumanisation that surrounds rape and land-grab, it is a text that palpitates with fear and with outrage. As we join the nameless young woman in her quest to find the truth of a long-forgotten atrocity, we realize how dangerous it is to reclaim life and history in the face of ongoing, systematic erasure. The narrative tempo, that eventually reaches a crescendo, astutely captures how alienation and heightened anxiety are elemental states of living under Israeli occupation. This is the political novel we have all been waiting for.

— Meena Kandasamy

An extraordinary work of art, Minor Detail is continuously surprising and absorbing: a very rare blend of moral intelligence, political passion, and formal virtuosity.

— Pankaj Mishra