The Possibility of Philosophy: Course Notes from the Collège de France, 1959–1961 (Studies in Phenomenology and Existential Philosophy) (Paperback)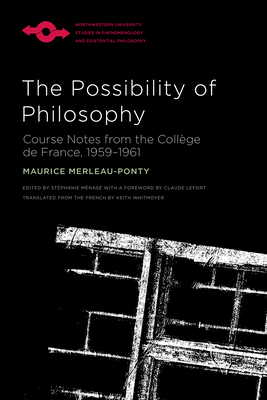 $45.44

Comes From Our Warehouse - Usually Ships in 3-10 Days
Description
---
The Possibility of Philosophy presents the notes that Maurice Merleau‑Ponty prepared for three courses he taught at the Collège de France: "The Possibility of Philosophy Today," given in the spring semester of 1959, and "Cartesian Ontology and Ontology Today" and "Philosophy and Nonphilosophy since Hegel," both given in the spring semester of 1961. The last two courses remain incomplete due to Merleau-Ponty's unexpected death on May 3, 1961. Nonetheless, they provide indications of the new ontology that informed The Visible and the Invisible, a posthumously published work that was under way at the same time. These courses offer readers of Merleau‑Ponty's late thought a wealth of references—to painting, literature, and psychoanalysis, and to the works of Husserl, Heidegger, Descartes, Hegel, and Marx—that fill in some of the missing pieces of The Visible and the Invisible, especially its often terse and sometimes cryptic working notes. We see more clearly how Merleau-Ponty's attempt to bring forth a new ontology indicates a fundamental revision in what it means to think, an attempt to reimagine the possibility of philosophy.

 
About the Author
---
MAURICE MERLEAU‑PONTY (1908–1961) is the author of Adventures of the Dialectic; Child Psychology and Pedagogy: The Sorbonne Lectures, 1949–1952; Consciousness and the Acquisition of Language; In Praise of Philosophy and Other Essays; Institution and Passivity: Course Notes from the Collège de France (1954–1955); Nature: Course Notes from the Collège de France; The Primacy of Perception: And Other Essays on Phenomenological Psychology, the Philosophy of Art, History, and Politics; The Prose of the World; Sense and Non‑Sense; The Sensible World and the World of Expression: Course Notes from the Collège de France, 1953; Signs; and The Visible and the Invisible, all published by Northwestern University Press.
 
KEITH WHITMOYER is an adjunct assistant professor at the New York City College of Technology, Pace University, and the School of Visual Arts. He is the author of The Philosophy of Ontological Lateness: Merleau‑Ponty and the Tasks of Thinking.