Prolegomena to Any Future Materialism: A Weak Nature Alone (Diaeresis #2) (Paperback)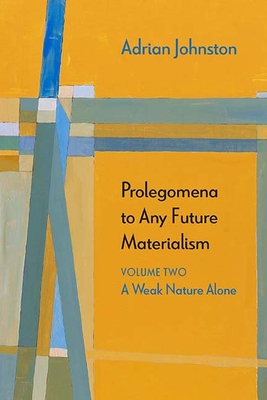 $49.94

Comes From Our Warehouse - Usually Ships in 3-10 Days
Other Books in Series
This is book number 2 in the Diaeresis series.
Description
---
Adrian Johnston's trilogy Prolegomena to Any Future Materialism aims to forge a thoroughly materialist yet antireductive theory of subjectivity. In this second volume, A Weak Nature Alone, Johnston focuses on the philosophy of nature required for such a theory. This volume is guided by a fundamental question: How must nature be rethought so that human minds and freedom do not appear to be either impossible or inexplicable within it? Asked differently: How must the natural world itself be structured such that sapient subjects in all their distinctive peculiarities emerged from and continue to exist within this world?

In A Weak Nature Alone, Johnston develops his transcendental materialist account of nature through engaging with and weaving together five main sources of inspiration: Hegelian philosophy, Marxist materialism, Freudian-Lacanian metapsychology, Anglo-American analytic neo-Hegelianism, and evolutionary theory and neurobiology. Johnston argues that these seemingly (but not really) strange bedfellows should be brought together so as to construct a contemporary ontology of nature. Through this ontology, nonnatural human subjects can be seen to arise in an immanent, bottom-up fashion from nature itself. 
About the Author
---
ADRIAN JOHNSTON is a professor of philosophy at the University of New Mexico at Albuquerque and a faculty member at the Emory Psychoanalytic Institute in Atlanta. He is the author of seven books, including Time Driven: Metapsychology and the Splitting of the Drive, Žižek's Ontology: A Transcendental Materialist Theory of Subjectivity, Badiou, Žižek, and Political Transformations: The Cadence of Change, and Prolegomena to Any Future Materialism, Volume One: The Outcome of Contemporary French Philosophy, all published by Northwestern University Press.
Praise For…
---
"This is a remarkable work of epic proportions, in which Johnston describes the origins of what he calls 'transcendental materialism' in Hegel's proposal that Spirit arises from Nature. Equally significant is the way Johnston enhances Hegel with the best insights from Marx, Engels, Dietzgen, Freud, Lenin, Lukács, Lacan, and Althusser, resulting in a very powerful and highly original 'dialectical naturalism' for our times." —Andrew Cole, author of The Birth of Theory

"Adrian Johnston's sweeping project of Prolegomena to Any Future Materialism has hardly any match regarding its ambition, goal, and scope. With a sovereign ease, it crosses all the usual boundaries, taking its cue from both the continental and the analytical traditions, from psychoanalysis and neuroscience, from German idealism and scientific naturalism, from Marxism and poststructuralism. An essential read." —Mladen Dolar, author of A Voice is Nothing More

"Adrian Johnston's trilogy Prolegomena To Any Future Materialism promises to achieve the most important confrontation between continental and analytic philosophy ever written. In this second volume, Johnston pursues the elaboration of a materialist yet nonreductionist theory of subjectivity. He discusses with Hegel, Marx, McDowell, Brandom, and so many others the 'underground current of naturalism' that haunts philosophy today and powerfully outlines a new definition of freedom." —Catherine Malabou, author of What Should We Do With Our Brain?
"Adrian Johnston is one of the most original philosophers of his generation. This second tome of
Prolegomena to Any Future Materialism
will provide food for thought for many years to come. Who else can combine a defense of Engels's dialectic of nature with Hegel's materialist underside? Who else can leap from Soviet science to the philosophy of Alain Badiou, from Nancy Cartwright to the late Lukács, or from John McDowell to the canonical Althusser?" —Bruno Bosteels, author of
Badiou and Politics
"Adrian Johnston is one of the most innovative and audacious continental philosophers writing today. Over the past decade, he has developed an original theoretical synthesis of remarkable sophistication. This volume is a significant addition to his already impressive body of work." —Ray Brassier, author of
Nihil Unbound: Enlightenment and Extinction?