Staff Picks: Stories (Yellow Shoe Fiction) (Paperback)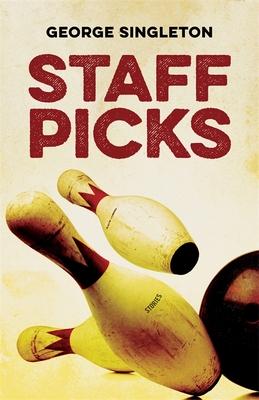 Staff Reviews
---
Reading a new book by George Singleton is like running into an old friend from your past, striking up a conversation, and later wondering why on earth you don't spend more time with them because they are even funnier and smarter than you remembered and they just make you feel good!  The stories in Staff Picks are like that: clever in surprising ways but never precious or pretentious.  They are filled with incredibly screwed up people from all walks of Southern life instantly recognizable to those of us who grew up in small Southern towns.  These nutjobs are real, y'all.  You will laugh out loudly, so take care where you choose to read this collection.  You might also shed a tear or two.  I did.  Singleton is one of the few writers who can pull off profane and profound in the same paragraph.  He's one of my favorites.  Enjoy!
— Kelly
Description
---
It's Father's Day 1972 and a young boy's dad takes him to visit a string of unimpressive ex-girlfriends that could have been his mother; the unconventional detective work of a koan-speaking, Kung Fu-loving uncle solves a case of arson during a pancake breakfast; and a former geology professor, recovering from addiction, finds himself sharing a taxicab with specters from a Jim Crow-era lynching. Set in and around the fictional town of Steepleburg, South Carolina, the loosely tied stories in George Singleton's Staff Picks place sympathetic, oddball characters in absurd, borderline surreal situations that slowly reveal the angst of southern history with humor and bite.
In the tradition of Donald Barthelme, T. C. Boyle, Flannery O'Connor, and Raymond Carver, Singleton creates lingering, darkly comedic tales by drawing from those places where familiarity and alienation coexist. A remarkable and distinct effort from an acclaimed chronicler of the South, Staff Picks reaffirms Singleton's gift for crafting short story collections that both deliver individual gems and shine as a whole.
About the Author
---
George Singleton, author of numerous works of fiction and one of nonfiction, is a former Guggenheim fellow and member of the Fellowship of Southern Writers. His stories have appeared in many publications including Atlantic Monthly, Harper's, Georgia Review, Playboy, and New Stories from the South.