At Briarwood School for Girls (Hardcover)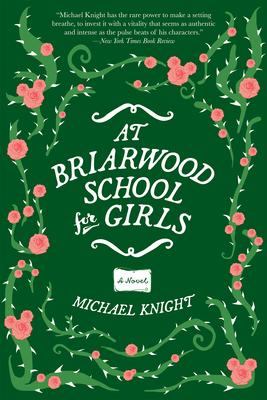 Staff Reviews
---
The best novels set in boarding schools have a claustrophobic feel less common than books set in other places.  Knight's contribution to the genre raises the bar with its excruciating tension.
Portraying generations of girls present and past at Briarwood, (some of whom are now faculty), the story explores the inner lives of teens and adults as well as where they intersect.  Living parallel existences, the adults and teens each dismiss the other as not having "real" problems.  A condition that is as old as human existence is exposed in a new, illuminating, and heartbreaking way.  
A major subplot explores our responsibility to history as Disney plans an American history theme park very near the school with rides and attractions based on the Underground Railroad, slavery, and the Civil War.  The book takes place in 1993 when this battle over the proposed theme park was a real thing here in Virginia.  (I know, gross, right?)  Knight seamlessly weaves the stories of the girls' and adults' struggles with personal histories and presents with our nation's.  And, as always, his writing is graceful, simple, and sings an unforgettable song of truth.  
— Kelly
Description
---
It's 1994 and Lenore Littlefield is a junior at Briarwood School for Girls. She plays basketball. She hates her roommate. History is her favorite subject. She has told no one that she's pregnant. Everything, in other words, is under control. Meanwhile, Disney has announced plans to build a new theme park just up the road, a "Technicolor simulacrum of American History" right in the middle of one of the most history-rich regions of the country. If successful, the development will forever alter the character of Prince William County, VA, and have unforeseeable consequences for the school. When the threat of the theme park begins to intrude on the lives of the faculty and students at Briarwood, secrets will be revealed and unexpected alliances will form. Lenore must decide whom she can trust--will it be a middle-aged history teacher struggling to find purpose in his humdrum life? A lonely basketball coach tasked with directing the school play? A reclusive playwright still grappling with her own Briarwood legacy? Or a teenage ghost equally adept at communicating with the living via telephone or Ouija board? Following a cast of memorable characters as they reckon with questions about fate, history, and the possibility of happiness, At Briarwood School for Girls is a stunning and inventive new work from a master storyteller.

About the Author
---
MICHAEL KNIGHT is the author of the novels The Typist and Divining Rod; the short story collections Eveningland, Goodnight Nobody and Dogfight and Other Stories; and the novella The Holiday Season. He teaches creative writing at the University of Tennessee and lives in Knoxville with his family.