Lights On, Rats Out: A Memoir (Hardcover)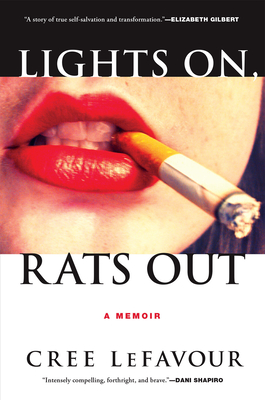 $25.00
Currently Out of Stock - Available to Ship From Our Warehouse in 3-5 Days
Staff Reviews
---
There were times while reading this that I felt sick to my stomach, it was just too real. Cree LeFavour's memoir focuses on her relationship with her therapist, with whom she becomes infatuated…to the point of self-inflicting third-degree cigarette burns on herself to continue seeing him…to the point of violating a contract with him to stop. Faced with a choice to get a new therapist or go to a hospital, she chooses to be institutionalized. This is a very intelligent memoir from a very intelligent writer.
— Carl
Description
---
A Kirkus Reviews Best Nonfiction Book of 2017
"Lights On, Rats Out is unlike anything I've ever read--a powerfully, staggeringly honest book that is excruciating in places, and also completely haunting. LeFavour's intimate account of her relationship with her psychiatrist is intensely compelling, forthright, and brave. Did he overstep? Was he somehow pulled in by her beyond what was therapeutically appropriate or helpful? This is a fascinating memoir in a category of its own."--Dani Shapiro As a young college graduate a year into treatment with a psychiatrist, Cree LeFavour began to organize her days around the cruel, compulsive logic of self-harm: with each newly lit cigarette, the world would drop away as her focus narrowed on the blooming release of pleasure-pain as the burning tip was applied to an unblemished patch of skin. Her body was a canvas of cruelty; each scar a mark of pride and shame. In sharp and shocking language, Lights On, Rats Out brings us closely into these years. We see the world as Cree did--turned upside down, the richness of life muted and dulled, its pleasures perverted. The heady thrill of meeting with her psychiatrist, Dr. Adam N. Kohl--whose relationship with Cree is at once sustaining and paralyzing--comes to be the only bright spot in her days. Lights On, Rats Out describes a fiercely smart and independent woman's charged attachment to a mental health professional and the dangerous compulsion to keep him in her life at all costs.
About the Author
---
Cree LeFavour is the author of several cookbooks, including the James Beard Award nominated Fish, published by Chronicle Books. She has Ph.D. in American Studies and taught writing at New York University.