Field Guide to the Birds of Cuba (Paperback)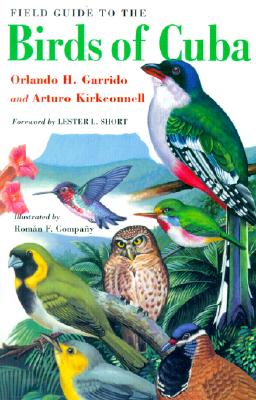 $29.95

Comes From Our Warehouse - Usually Ships in 3-10 Days
Description
---
The richness and diversity of Cuban birdlife features 354 recorded species that represent 20 orders and 60 families. The 21 living endemic species include the charming Cuban Tody, the striking and elegant Cuban Trogon (the national bird), the colorful Cuban Green Woodpecker, and the smallest of all birds, the Bee Hummingbird.
This compact and portable field reference will help Cubans, visitors from abroad, and bird enthusiasts identify and enjoy the island's avifauna. The 51 color plates and 662 images accurately illustrate male, female, and juvenile plumages (in some cases for the first time). Many migratory species are depicted in both winter and breeding colors, providing a glimpse of many common North American birds as they appear when away from northern surroundings. In the comprehensive Field Guide to the Birds of Cuba Orlando H. Garrido and Arturo Kirkconnell share their vast wealth of knowledge about birds--and habitats--that are too little known.
Field Guide to the Birds of Cuba contains:
* Species accounts including habitat descriptions, similar species, range, status, nesting and feeding habits, and vocalizations.
* Checklists of endemic species and subspecies.
* Background on the geography, climate, geology, paleontology, and natural history of Cuba.
*144 maps that show regional boundaries and vegetative habitats as well as the local distribution of each species.
About the Author
---
Orlando H. Garrido and Arturo Kirkconnell are Curators, National Museum of Natural History of Cuba. Lester Short is emeritus director of the department of ornithology at the American Museum of Natural History.