The Weapons of Our Warfare: Using the Full Armor of God to Defeat the Enemy (Paperback)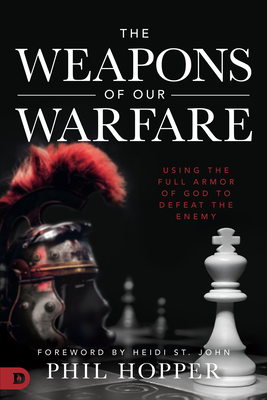 $16.99
Not available for purchase
Description
---
The Armor of God: Your Key to Victory
Right now, there is a real spiritual battle going on in the unseen realm. Every Christian must equip themselves against the forces of darkness. Victory is possible when we use the full armor of God described in Ephesians 6.
In Pastor Phil Hopper's first book, Defeating the Enemy, he helped identify the devil's strategies. Now, in The Weapons of Our Warfare, Pastor Hopper takes readers to the next level of spiritual warfare
Learn how to:
Break free from Satan's strongholds: learn how to overcome destructive life patterns.
Exercise your Kingdom authority: engage the enemy from a place of victory.
Use the full Armor of God: understand the spiritual significance and practical application of each piece of the armor.
Spiritual warfare is a call to arms. Use the Armor of God to claim your victory and demolish the enemy's work in your life today
About the Author
---
Phil Hopper has been the lead Pastor of Abundant Life Church in Lee's Summit, Missouri, since 2000. He watched God do extraordinary things in the life of the church as it has grown from 100 people to a mega church touching thousands and thousands of people each week. Prior to entering the ministry, he was a police officer and sergeant with the Kansas City Police Department where he served as a SWAT team member. It was through this experience that God uniquely prepared him for the ministry. Phil lives in the Lee's Summit area with his wife, Christa. They have three children: Jake, Makay, and Josh.