Complete Conditioning for Rugby (Complete Conditioning for Sports) (Mixed media product)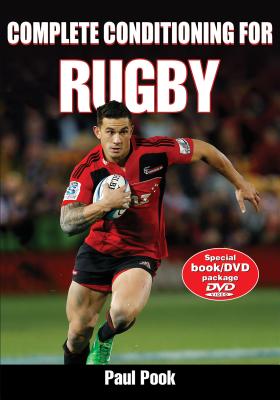 $24.95

Comes From Our Warehouse - Usually Ships in 3-10 Days
Description
---
Today's rugby players are bigger, faster and stronger than ever before. A focused conditioning programme has become essential to on-field success. Complete Conditioning for Rugby features a comprehensive training approach that builds players' physical abilities as well as the rugby-specific skills their positions require.
Renowned conditioning coach and former professional player Paul Pook provides exercises, drills and programmes designed to improve the essential elements of the sport—strength, power, quickness and agility. His programmes will help you with these skills:
• Increase strength and power to win those all-important collisions.
• Improve your quickness and agility to be as elusive as the world's best.
• Develop your core stability and mobility in order to remain injury free.
• Customise your workouts to meet the demands of the position you play.
In addition, the approximately 50-minute DVD takes you into the gym to demonstrate the same exercises and drills used by the game's best.
With physical assessments, nutrition advice and seasonal workouts, Complete Conditioning for Rugby will take your game to the next level.
About the Author
---
Paul Pook has worked in high-performance rugby for more than 15 years. A former professional player, Paul was Ireland's national fitness coach and part of Ireland's Grand Slam-winning coaching team. More recently, Paul was appointed head of conditioning for the Russia Rugby Union and prepared the national team for the 2011 Rugby World Cup in New Zealand. Paul has a special interest in workload management and player longevity. He recently presented at the RBS Six Nations conference in Venice on the subjects of GPS and optimising player workload and shortly afterward presented at the Italian Olympic Federation in Rome on the subject of athlete longevity. He is currently researching the application of an interactive web portal for optimising performance and preventing injury.
Paul has also founded a unique residential high-performance centre in Southwest France. Catering to ambitious players and coaches, the centre contains the very latest strength and conditioning equipment, which will ensure both individuals and teams achieve their optimal fitness in order to compete at the highest level of sport.
Praise For…
---
"Paul is a pioneer and very creative in thought and constructive in execution. He will often take the lead in facilitating forums for the enhancement of team dynamics and the achievement of a more cohesive team. Paul is a very driven individual and portrays a huge desire for success and fulfilling potential. I have no hesitation in recommending Paul to your organization as a man who is passionate about rugby and sport in general and who has the skills and commitment to make a difference."
Andre Vos
Former Springbok Captain
"I do not think I have ever seen a coach able to improvise like Paul did to get the very best out of a squad of rugby players, young and old! An excellent motivator with endless enthusiasm and a very positive outlook."
Richard Hill
Former England Captain and Director of Rugby Worcester Warriors
"Complete Conditioning for Rugby was written with ambitious rugby players and coaches in mind. It is a superb resource that will give you results."
Stephen Ferris
Ireland, British and Irish Lions
"Paul Pook's Complete Conditioning for Rugby is a must-have for any player seeking success on the field."
Toby Faletau
Wales, 2011 RWC Dream Team
"The book and DVD package captures Pook's unique approach, making Complete Conditioning for Rugby the most comprehensive training resource in the sport today."
Victor Gresev
Wasps, Russia, 2011 RWC Dream Team
"Paul's comprehensive and passionate approach to player development is reflected in the content of this great book. Every coach will gain insight on developing athleticism to enhance rugby performance and build greater resistance to injury."
Kingsley Jones
Former Director of the Sale Sharks
Head Coach of Russia Rugby Union