No Walls and the Recurring Dream: A Memoir (Hardcover)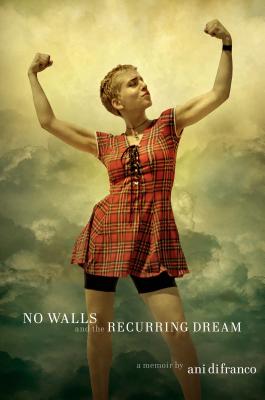 Staff Reviews
---
I wish I could rate this higher than a 10/10. I am a longtime, unabashed DiFranco fan and have been looking forward to this book for a while. It covers her life up to the early 2000s and gives more background information than I've been able to find before (since it's straight from the horse's mouth) and I reveled in the stories from her early life and early career. Her words are beautiful and I loved the additions of song lyrics and her poetry that were interspersed in the story. I could go on and on about this book, I loved it so much, and now all I want to do is hole up and listen to her music for days.
— From
Andi's Picks 2019
Description
---
A NEW YORK TIMES BESTSELLER

"A memoir as fierce, freewheeling, and passionate as her music."
--O, the Oprah magazine

A memoir by the celebrated singer-songwriter and social activist Ani DiFranco

In her new memoir, No Walls and the Recurring Dream, Ani DiFranco recounts her early life from a place of hard-won wisdom, combining personal expression, the power of music, feminism, political activism, storytelling, philanthropy, entrepreneurship, and much more into an inspiring whole. In these frank, honest, passionate, and often funny pages is the tale of one woman's eventful and radical journey to the age of thirty. Ani's coming of age story is defined by her ethos of fierce independence--from being an emancipated minor sleeping in a Buffalo bus station, to unwaveringly building a career through appearances at small clubs and festivals, to releasing her first album at the age of 18, to consciously rejecting the mainstream recording industry and creating her own label, Righteous Babe Records. In these pages, as in life, she never hesitates to question established rules and expectations, maintaining a level of artistic integrity that has inspired and challenged more than a few. Ani continues to be a major touring and recording artist as well as a celebrated activist and feminist, standing as living proof that you can overcome all personal and societal obstacles to be who you are and to follow your dreams.
About the Author
---
Ani DiFranco is a Grammy-winning musical artist and feminist icon recognized for her poetry and songwriting which pierces social convention and challenges the status quo, as well as for her social activism and political engagement. One of the first artists to create her own label in 1990, she is the mother of the DIY movement and has sold over 5.5 million albums on her own Righteous Babe Records, and recently released her twentieth studio album. While she has been known as the "Little Folksinger," her music has embraced many genres and collaborators ranging from Pete Seeger to Chuck D to Prince. She lives in New Orleans.
Praise For…
---
One of Amazon's Best Books of the Year So Far

"Ani DiFranco has written a memoir as fierce, freewheeling, and passionate as her music. Like Patti Smith's Just Kids and Bruce Springsteen's Born To Run, No Walls and the Recurring Dream charts the evolution of an artist whose voice couldn't be suppressed by poverty, by misogyny, by record executives—and we hear it, loud and true." 
—O, the Oprah Magazine

"After reading this funny, honest account of [Ani DiFranco's] life up to age 30, it's clear that though her choices may not be for everyone, they're part and parcel of her integrity and creative path."
—The Washington Post
 
"Ani DiFranco has spent decades challenging the status quo, standing up for what she believes and creating honest, raw music. Her memoir is an extension of these passions. . . . No Walls and the Recurring Dream is unapologetic, steadfast, and vulnerable. It's as if DiFranco has invited you into the living room of her New Orleans home to have a long discussion about how she got to where she is."
—Associated Press

"[DiFranco] manages to shed new light on how a young, talented woman created enough momentum to slingshot herself beyond her town's suffocating gravitational pull and create an entirely new solar system, populated with an orbit of planets and moons of her own devising."
—Rolling Stone

"DiFranco's memoir undoubtedly bubbles up from the same creative well as her music. . . . Pages that read like a diary's confessional. . . . This is a story with a soul."
—Sarah Hass, Los Angeles Review of Books

"Ani DiFranco's memoir plays by similar rules to which she's lived her life and worked her career: there are no conventions; nothing is sacred; she will tell the tale however she pleases. . . . Fascinating. . . . This is a worthy read for those interested in folk music, social activism, DIY recording, and general badassery."
—Paste, "The 25 Best Memoirs of the 2010s"

"Part feminist and social-justice manifesto, part bracing road story. . . . A deep and thoughtful current runs throughout DiFranco's memoir. She's a longtime activist, and her book highlights the value and power of speaking up."
—The Philadelphia Inquirer

"[Ani] DiFranco chronicles her rise to fame with engaging candor. Fending for herself by age 15, she survived each unusual day with ingenuity and perseverance. . . . DiFranco is a natural storyteller, infusing these pages—with their frequent offbeat anecdotes, unusual characters, and significant episodes—with wit, humor, and perspective. She also intersperses the narrative with some of her most notable poetry. DiFranco has defied convention yet remained true to herself. A must for her fans, this riveting, thought-provoking work will also appeal to anyone who enjoys a well-written autobiography."
—Library Journal, starred review

"The Grammy-winning [Ani DiFranco] recounts the eventful story of her life as a musician and feminist political activist. . . . Interspersed throughout with feminist/political musings and anecdotes about such music legends as Pete Seeger, Prince, and Bob Dylan, DiFranco's tale celebrates both independent music and an unconventional life daringly lived. A refreshingly frank and free-spirited memoir from a feminist icon."
—Kirkus Reviews

"[DiFranco] makes her literary debut in this powerful reflection on her life and career. . . . Throughout, DiFranco writes of her self-doubts and romantic hardships. . . . Honest and passionate, DiFranco's memoir will resonate with her many fans."
—Publishers Weekly
Coverage from NPR