Standing In The Fire (Paperback)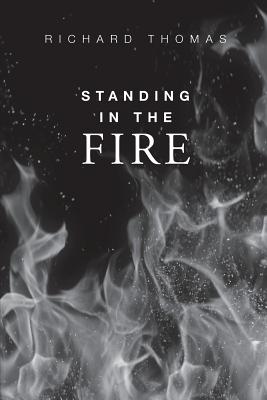 $12.99

Comes From Our Warehouse - Usually Ships in 3-10 Days
(This book cannot be returned.)
Description
---
"Standing In The Fire" is the autobiography of former Rev Theory lead guitarist Richard Thomas, better known by his stage name "Rikki Lixx".
Richard Thomas is now a solo Christian recording artist with many albums and singles available worldwide. Richard Thomas aka Rikki Lixx opens up in his new autobiography "Standing In The Fire," Thomas' book details his journey from a child guitar prodigy to the lead guitarist of rock band Rev Theory as well as other national acts.

Richard started playing guitar at 10 years old, and formed his first band in grade school, where he mastered his craft. He went to Hollywood to join up with his first major label national rock band project, and later spent five years as the lead guitarist for Rev Theory. During this time, the band released three albums, and had seven top 40 hits in the United States. Eventually Richard left Rev Theory to follow The Lord. Since then he has released three solo records and several singles.

However, Thomas' journey has not been easy, as his book details his battles with drugs
and alcohol eventually led him to overdose in the hope of dying. His story does not hold
back on topics such as life on the road, out of control drinking, and the happiness and
peace he found when he accepted Jesus Christ into his heart.

"Standing In The Fire" includes contributions from some of music's biggest stars, as they reflect on Thomas' life story.

- Matt Sanders aka M Shadows (The lead singer for Avenged Sevenfold)
- Greg Upchurch (Former drummer for Puddle of Mudd and now drummer for 3 Doors Down)
- Jasin Todd (Co-founder and former guitarist of Shinedown)
- Tony Palermo (Drummer for Papa Roach)
- Scott Bartlett (Lead guitarist for Saving Abel)
- Anthony Greve (Ex-Lead guitarist for Pop Evil and now Pastor of Anthony Greve Ministries)
- Johnny Caprefoli aka Johnny Dare (DJ for 98.9 The Rock in Kansas City)
- Julien Jorgensen (Guitarist for Rev Theory)
- Dave Agoglia (Drummer for Rev Theory)
- Jamie Eason (Fitness Model and writer)
- Gavin Maloof (Of The Maloof Brothers)
- Paul Phillips (Former guitarist for Puddle of Mudd)
- Dorman Pantfoeder (Drummer for Fit For Rivals)
- Wade Carpenter
- Sharlotte Gibson
- Shannon Gunz (DJ for Sirius XM Radio)