Oilfield Survival Guide, Volume One: For All Oilfield Situations (Hardcover)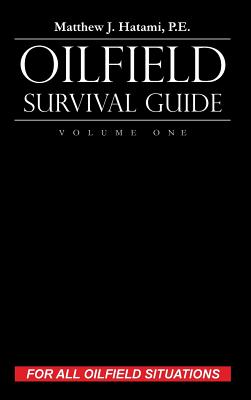 $62.44

Comes From Our Warehouse - Usually Ships in 3-10 Days
(This book cannot be returned.)
Description
---
Save Money, Time, and Lives with the Real-World Oil & Gas Experience of Others. Learning the Hard Way in the Oilfield can Cost You Millions, sometimes Billions of Dollars in addition to Injury and Loss of Life.
Cut Through the Noise to Focus on the Most Critical Aspects of Working in the Oil and Gas Business. Based on over 1,000 Oil and Gas Situations involving Drilling, Cementing, Fracking, Wireline, Coil Tubing, Snubbing, Running Tools, Welding, Production, Workover, Logging, Trucking, Geology, Land, Engineering, Resource Development, Executive Management and much, much more.
Expand Your Value Creation Opportunities by Learning from the Real-World Experience of Others.
Whether you work in the office or in the field, work as a Company Man, Engineer, Driller, Tool Pusher, Roughneck, Geologist, Landman, Truck Driver, Frac Hand, Treater, Cementer, Lawyer, Flowback Hand, Welder, Geophysicist, Snubber, Pumper, Equipment Operator, Derrick Man, Mechanic, Petrophysicist, Roustabout, Manager, Director, VP, or Executive, consider adding Oilfield Survival Guide to your toolbox of knowledge. In other words, if you work hard for your money in the oil business, this book is for you.
The oil & gas industry is one of the most capital-intensive businesses today. As a result, mistakes/situations can be expensive, in addition to injury and loss of life. To prevent undesirable situations, Oilfield Survival Guide was created, based on over 1,000 oil & gas situations.

The ultimate guide for all oil and gas situations:
● Tactics ● Procedures ● Fatalities ● Short Stories ● Train Wrecks ● Disaster Avoidance ● Court Cases ● Life Savings Skills ● Checklists ●Troubleshooting ● Problem Job Prevention ●

Oilfield Survival Guide is the ultimate oil industry resource to help manage oilfield risk and avoid mistakes by increasing your oil and gas knowledge and intelligence, utilizing a variety of methods, including:

Tactics: Short and to the point guidelines to reduce risk and instill work principles to be successful in the oil industry, from the field to the office.

Short Stories: Experience from the mistakes of others.

Fatalities: Detailed analysis of oil and gas tragedies.

Court Cases: Jury trials, expert witness testimony, and legal opinions on a variety of oil and gas cases.

Procedures: Step-by-step process to create oilfield procedures and checklists, along with multiple examples.

Operations Analysis: Oil and gas operations post-mortem, highlighting key learnings, practical knowledge, useful tips, and best practices.

Over 1,000 oil and gas situations analyzed to create Oilfield Survival Guide.