Lighting the Wick: An Intuitive Guide to the Ancient Art and Modern Magic of Candles (Paperback)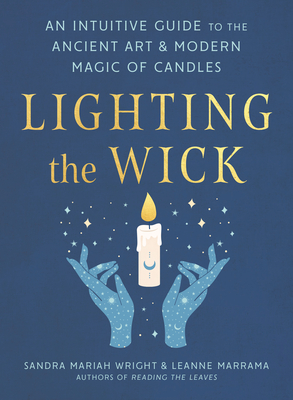 Description
---
An illustrated guide to improving your life through the simple act of lighting a candle.


Whether you would like to take back control in an uncertain world or turn a dollar-store candle into a means to manifest your desires, Lighting the Wick will help transform your life with candle magic. Learn how to:
 
  •  find, repair, or end a relationship;
  •  guard your boundaries and keep negative energy and toxic people out;
  •  ground and center;
  •  achieve common health goals;
  •  break bad habits, bolster motivation, and increase willpower; and
  •  meditate with the assistance of candles.


Candles represent faith and hope—a light in the darkness, the warmth of love, the heat of passion, and the fire of spirit. Here, Salem-based intuitives Sandra Mariah Wright and Leanne Marrama show you how to put the power of these simple tools to work for you in your daily life, to improve your relationships, achieve success, provide protection, increase health, honor those who have passed, and more. You don't have to be a witch to find your inner magic.
About the Author
---
Leanne Marrama is a full-time professional psychic. She teaches classes, presents at festivals around the country, and hosts weekly séances in Salem. Among her many media appearances, she has been featured on TLC's What Not to Wear, Ghost Chronicles, and Beyond Belief with George Noory.

Sandra Mariah Wright owns an events business (Spirit Beacon Psychic Fair & Mystical Marketplace), as well as a jewelry and occult supply company (Gallows Hill Witchery), and manages the largest annual psychic fair in the country (the Salem Psychic Fair & Witches' Market). She has appeared on the Travel Channel and Showtime, and has been featured on Dish Network's Magnificent Obsessions.

Praise For…
---
"As Witches, we understand that the light of the Universe itself resides in the candle's flame, and every candle contains the magic of the five sacred elements and the power to make things happen. In Lighting the Wick, Sandra and Leanne are able to convey the complexities of candle magic and divination in a relatable, accessible way without watering down the information, because they are sharing not just research, but a lifetime of personal experiences and sage advice on the path of Witchcraft. I believe this book will lead those who are drawn to the Craft deeper into their practice as they explore one of the most potent tools of the Witch."—Laurie Cabot, author of The Power of the Witch, Love Magic, and The Witch in Every Woman