Acts of Service: A Novel (Hardcover)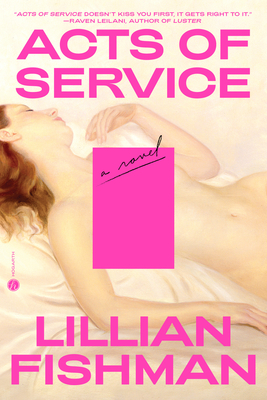 Staff Reviews
---
50 Shades for people who relate a bit too much to the narrator of My Year of Rest and Relaxation!
I have three major weaknesses when it comes to books: 1) Striking neon pink text on the cover 2) Books about a woman coming to terms with her sexuality and sensuality and 3) Characters so problematic/unlikeable but you connect with them in this weirdly honest way, so this book was basically written for me. I loved it, even with these huge standards I had from skimming over, it lived up to it. I didn't really know what the expect, as the back cover doesn't give much except the basis of a young queer woman posts her nudes anonymously and a new relationship blossoms from it and comparisons to Moshfegh, Rooney and Didion (which I really see the Moshfegh and Rooney especially in the Eve character), which amped me up even more. Overall I thought the strongest part of this was the characters, and it works. The book takes place over a year and some change, and the plot is good but the characters all really take over and set the tempo for the novel. I thought all of them seemed realistic and crafted very strongly, even if they aren't major parts of the story (ex. Fatima) Honestly the last 30 pages of this bumped my 3 stars up to a solid 4, from the revelation Nathan says and then how it all ends, really saved this for me a bit. Fresh, strong debut, cant wait to sell this one for avid readers of "woman in the void" fiction.
— From
Grace
May 2022 Indie Next List
---
"Hands down, the best thing I've read in months. Acts of Service complicates well-trod territory — beauty, power, sex, degradation, privilege — in a way that feels honest. Tender, totally absorbing, wholly original. I love this book."
— Claire Davey, Auntie's Bookstore, Spokane, WA
Description
---
A "bold and unflinchingly sexy" (Vogue) debut novel about a young woman who follows her desires into a world of pleasure, decadence, and privilege, unraveling everything she thought she knew about sex . . . and herself.
 
"One of the most entertaining books about sex I've ever read . . . The perfect read for fans of Raven Leilani and Ottessa Moshfegh, this is a book that will have people talking."—BuzzFeed

"Anytime I want, I can forsake this dinner party and jump into real life."—Eve Babitz

Eve has an adoring girlfriend, an impulsive streak, and a secret fear that she's wasting her brief youth with just one person. So one evening she posts some nudes online. This is how Eve meets Olivia, and through Olivia the charismatic Nathan. Despite her better instincts, the three soon begin a relationship—one that disturbs Eve as much as it enthralls her. 

As each act of their complicated, three-way affair unfolds across a cold and glittering New York, Eve is forced to confront the questions that most consume her: What do we bring to sex? What does it reveal of ourselves, and one another? And how do we reconcile what we want with what we think we should want? 

In the way only great fiction can, Acts of Service takes between its teeth the contradictions written all over our ideas of sex and sexuality. At once juicy and intellectually challenging, sacred and profane, Lillian Fishman's riveting debut is bold, unabashed, and required reading of the most pleasurable sort.
About the Author
---
Lillian Fishman was born in 1994 and lives in New York. She received her MFA from NYU, where she was a Jill Davis Fellow. Acts of Service is her first novel.
Praise For…
---
"Fishman's seductive debut novel centers questions of sexuality and sex, sexual freedom and power."—Autostraddle

"A radical understanding of the multi-hyphenate definitions of sexual orientation . . . Using sex as a road map, Eve is searching to understand her own inner workings as a young woman. We tend to love what disturbs us, if we are willing to follow our desires and take the risk."—Interview

"A fun debut novel that feels like the life story of half of Brooklyn."—Nylon

"Reminiscent of Sally Rooney's work . . . An evocative exploration of desire and sexuality, this dark debut will cause readers to question the very nature of consent."—Kirkus Reviews

"Fishman's alluring debut poses questions about sex, sexuality, and power via the story of a young woman's exploration of desire. Smooth and smart."—Publishers Weekly

"Acts of Service doesn't kiss you first, it gets right to it—depicting the liquid frequencies of need and power with a thoughtful, savage eye."—Raven Leilani, author of Luster

"Fascinating . . a book of exquisite moral refinement and almost intimidating elegance."—Edmund White, author of A Boy's Own Story and States of Desire

"Acts of Service doesn't shy away from asking big questions about the nature of attraction. All this, but with a great deal of page-turning pleasure."—Gary Shteyngart, author of Our Country Friends and Super Sad Love Love Story

"A kind of supercharged combo of Sally Rooney and Ottessa Moshfegh, and as smart as Joan Didion, Fishman isn't just a brilliant writer—she's a brilliant feeler, a great thinker. She has the gift we open books for."—David Lipsky, author of The Art Fair

"Months after turning the final page, I'm still thinking about this fiercely wily novel."—Heidi Julavits, author of The Folded Clock

"Stunning. . . I didn't want it to end."—Saskia Vogel, author of Permission

"I cannot recall the last time I felt this exhilarated and transformed by a novel. Acts of Service electrified both my mind and body."—Sanaë Lemoine, author of The Margot Affair

"Taut, thorny, and sublimely fraught. . . This book is electric."—Alexandra Kleeman, author of Something New Under the Sun