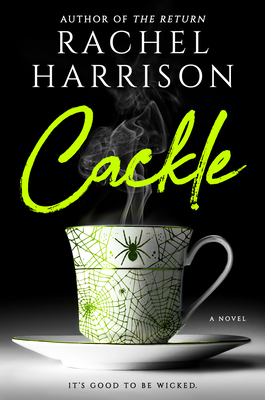 Staff Reviews
---
I don't usually put a lot of pre-order books on my page, but Cackle is pure October reading (which I desperately needed in this heat!). Poor Annie is heartbroken- dumped by her long term, live in boyfriend, she leaves NYC to take a teaching job in a tiny town in upstate New York. She's lonely, talking to the spiders that lurk in her new apartment, but then she meets the glamorous and spooktacular Sophie. That's when the book shifts from Heartbreak Hotel to Witches of Eastwick, wrapping a wicked spell around the reader.
— From
Katie
Cackle crackles with magic! Recently dumped Annie moves from New York City to a small town so quaint the Hallmark Movie Channel wishes it had created it. She meets the mysterious Sophie, a woman the whole town seems to worship... and maybe fear. Perfect for fans of Witches of Eastwick and Practical Magic, Rachel Harrison serves up a cauldron full of witchy goodness. Definitely in my top ten books of 2021!
— From
Kate's Top 10 of 2021!
Description
---
A darkly funny, frightening novel about a young woman learning how to take what she wants from a witch who may be too good to be true, from the author of The Return.
 
All her life, Annie has played it nice and safe. After being unceremoniously dumped by her longtime boyfriend, Annie seeks a fresh start. She accepts a teaching position that moves her from Manhattan to a small village upstate. She's stunned by how perfect and picturesque the town is. The people are all friendly and warm. Her new apartment is dreamy too, minus the oddly persistent spider infestation.  
 
Then Annie meets Sophie. Beautiful, charming, magnetic Sophie, who takes a special interest in Annie, who wants to be her friend. More importantly, she wants Annie to stop apologizing and start living for herself. That's how Sophie lives. Annie can't help but gravitate toward the self-possessed Sophie, wanting to spend more and more time with her, despite the fact that the rest of the townsfolk seem…a little afraid of her. And like, okay. There are some things. Sophie's appearance is uncanny and ageless, her mansion in the middle of the woods feels a little unearthly, and she does seem to wield a certain power…but she couldn't be…could she?
About the Author
---
Rachel Harrison was born and raised in the weird state of New Jersey. She received her bachelor's in writing for film and television from Emerson College. After graduating, she worked on TV game shows, in publishing, and for a big bank. She lives in western New York, with her husband and their cat/overlord.
Praise For…
---
"This witty page-turner put its spell on me! Cackle is a charming and very contemporary story about self-realization—a gal-pal Addams Family, in the best way. Clever and massively enjoyable." —Zoje Stage, USA Today and internationally bestselling author of Baby Teeth and Getaway

"Reading Cackle was like stumbling upon a candy cottage in a dark wood: utterly surprising, deceptively delightful, and a little bit scary, too. I gobbled it up in a weekend, cackling all the while."—emily m. danforth, author of Plain Bad Heroines and The Miseducation of Cameron Post

"Cackle delivers a lesson that every woman needs to hear: embrace your inner witch! Sweet, sinister, and 100 percent delightful." —Alma Katsu, author of The Hunger and The Deep

"Wry, dark, and deliciously witchy. I loved every page of this gripping feminist tale."—Alexis Henderson, author of The Year of the Witching

"As funny as it is frightening, Cackle by Rachel Harrison is the perfect book to cuddle up with on a crisp fall evening." -PopSugar

"Cackle is an all-too-relatable story about finding your inner strength even when you're at rock bottom, tackling the realities of post-break-up life with levity and charm. This book is an absolute delight, and everyone needs a friend like Sophie." - Genevieve Gornichec, Author of The Witch's Heart

"Cackle is that rare book that has it all: a searingly honest portrayal of all-consuming heartbreak, an exploration of the pitfalls of making new friends past thirty, a few revenge fantasies come to life, and a whole lotta witchcraft. Harrison's clever prose will have you laughing and crying at once, and I promise you will never look at spiders the same way again."—Molly Pohlig, author of The Unsuitable

"It's no surprise that Harrison's latest traffics in witchcraft, but there's nothing predictable about her take. She writes about women's autonomy and how it can be seen as a threat; about heteronormative romance and how it can suppress who women truly are. It's served in a friendship story that showcases Harrison's strength at writing powerful and empowered women with razor-sharp wit and a touch of darkness. This book wonders why this kind of woman is feared; in Harrison's hands, we're totally under their spell." -- Library Journal (Starred Review)

"Weird, disturbing, creepy, and wonderful, Cackle is one of my favorite books of the year." -Mystery and Suspense Magazine