The Final Girl Support Group (Hardcover)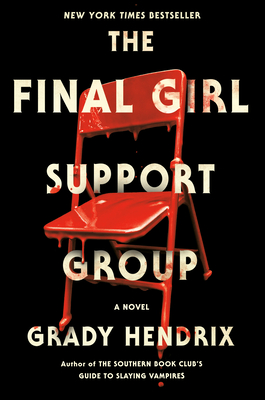 Staff Reviews
---
I love every word that Hendrix puts on a page and this might be my new favorite. It's a love letter to the slasher movie genre that exploded in the 80s-90s and while it doesn't call out any specific franchise by name, you know what inspired him. Lynette is a member of a top-secret support group that is full of Final Girls - the few women that survived brutal killers that spawned still-active horror movie franchises. No one understands how hard it is to be the ones left behind and when group members start dying off, it becomes clear that someone has found them out. This kept me turning the pages madly until the resolution and the reader can visualize how it might play out on screen. I will be putting this in the hand of every horror fan I see.
— From
Andi
July 2021 Indie Next List
---
"Lynnette has been going to the same support group for years — only this isn't a normal support group. It's a secret group for final girls. This is a fast-paced and shocking thriller that I couldn't put down!"
— Katie Cerqua, Gramercy Books, Bexley, OH
Description
---
THE INSTANT NEW YORK TIMES BESTSELLER

"The horror master…puts his unique spin on slasher movie tropes."-USA Today

A can't-miss summer read, selected by The New York Times, Oprah Daily, Time, USA Today, The Philadelphia Inquirer, CNN, LitHub, BookRiot, Bustle, Popsugar and the New York Public Library

In horror movies, the final girls are the ones left standing when the credits roll. They made it through the worst night of their lives…but what happens after?

Like his bestselling novel The Southern Book Club's Guide to Slaying Vampires, Grady Hendrix's latest is a fast-paced, frightening, and wickedly humorous thriller. From chain saws to summer camp slayers, The Final Girl Support Group pays tribute to and slyly subverts our most popular horror films—movies like The Texas Chainsaw Massacre, A Nightmare on Elm Street, and Scream.

Lynnette Tarkington is a real-life final girl who survived a massacre. For more than a decade, she's been meeting with five other final girls and their therapist in a support group for those who survived the unthinkable, working to put their lives back together. Then one woman misses a meeting, and their worst fears are realized—someone knows about the group and is determined to rip their lives apart again, piece by piece.
 
But the thing about final girls is that no matter how bad the odds, how dark the night, how sharp the knife, they will never, ever give up.
About the Author
---
Grady Hendrix is an award-winning novelist and screenwriter living in New York City. He is the author of Horrorstör, My Best Friend's Exorcism (which is being adapted into a feature film by Amazon Studios), We Sold Our Souls, and the New York Times bestseller The Southern Book Club's Guide to Slaying Vampires (currently being adapted into a TV series). Grady also authored the Bram Stoker Award-winning nonfiction book, Paperbacks from Hell, a history of the horror paperback boom of the '70s and '80s.
Praise For…
---
"The Final Girl Support Group sizzles with action, originality, and a gleaming concept sharp as a scalpel."—Charlaine Harris, #1 New York Times bestselling author

"Pray for morning, wish for speed, and be as quiet as you can, it doesn't matter—Grady Hendrix's The Final Girl Support Group already knows where you live and breathe."—Stephen Graham Jones, New York Times bestselling author of The Only Good Indians

"A great read…[Hendrix] excels at writing horror humor… His characters are funny and real, though at least one will definitely lose a limb at some point…Though the final girls' plight has all the scares of great horror fiction, there is an element of truth in their situation that will be recognizable to anyone who has experienced real trauma." – The New York Times

"Equal parts thrilling and darkly funny." - Time

"A savvy summer slasher … continues his winning run of meta horror novels…a wickedly entertaining page-turner." –USA Today

"Grady Hendrix has demonstrated a remarkable facility for suspense…With his latest work, The Final Girl Support Group, he's turned that talent into a nearly book-length workout, an exercise in go-go acceleration that steps on the gas soon after it begins and doesn't stop until the final pages." – The A.V. Club

"The Final Girl Support Group is funny, scary, and a roaring good time. Grady Hendrix puts his own spin on final girls and I loved it."—Samantha Downing, USA Today bestselling author of My Lovely Wife

"Take slasher movie adoration, critique, and satire, mix with compelling, flawed characters and neck-breaking plot twists, and drop it all into an industrial blender with large blades. Voilà, you now have Grady's maniacally clever and compulsively readable The Final Girl Support Group."—Paul Tremblay, national bestselling author of Survivor Song

"Dissects slasher obsession with cutting humor and heart." – Bloody Disgusting

"A wildly entertaining romp through the conventions of horror's slasher film subgenre…Hendrix masterfully evokes the paranoid existences of his diverse cast in the aftermath of their traumatic ordeals, and he so explicitly details the massacres and fictional film sagas that grew out of them that readers may believe them to be real. The result is a wonderfully suspenseful and darkly comic novel that cleverly subverts popular culture. Horror fans will be wowed."—Publishers Weekly (starred review)

"If you grew up on a diet of '80s slasher movies, The Final Girl Support Group is the book you've been waiting for...Clever, fast-paced horror comedy." —Oprah Daily

"The Final Girl Support Group is a deft examination of how our culture's obsession with misogynistic violence destroys the lives of women and how those women are able to keep fighting and living after unthinkable trauma. The beating heart of this book is empathy and it's set into a lightning-paced, vicious thriller. Reading it was a catharsis. Absolutely unmissable. Horror fans... you've never read a slasher like this."—Mallory O'Meara, national bestselling author of The Lady from the Black Lagoon

"With The Final Girl Support Group Grady Hendrix transforms a horror trope into something bloody original. An incisive examination of society's obsession with violence against women that simultaneously honors and roasts the slasher genre with equal prowess. Wildly entertaining and clever as hell."—Rachel Harrison, author of The Return

"Grady Hendrix's canny new novel, The Final Girl Support Group, gathers all the tropes and iconography of a decade's worth of slasher movies, throws them into a blender with much more wit and intelligence than any of those movies displayed, in a truly original, compelling, suspenseful tour de force… with a knowing wink. Hendrix has a rare, unique voice in a genre sorely in need of more!"—Mick Garris, writer and director (The Stand, Bag of Bones, The Shining miniseries)

"A crazy emotional roller coaster ride that took me right back to 1980, but it needs a warning label: may cause severe anxiety, suggest reading with CBD and a glass of wine."—Adrienne King, actress, artist, and Friday the 13th's first Final Girl

"The Final Girl Support Group is perfect for anyone who loves old slasher movies and, oddly enough, anyone who hates them. Grady Hendrix has somehow crafted both an homage to B-horror schlock and a clever dissection of the genre, all delivered in the form of one long breathless chase punctuated by both unpredictable twists and thoughtful insight."—David Wong, New York Times bestselling author of John Dies at the End

"A (bloody) valentine to the slasher franchises of the VHS era, but also a smart novel about survivor guilt and the concept of the enduring heroine."—Kim Newman, author of Anno Dracula