Minor Dramas & Other Catastrophes (Hardcover)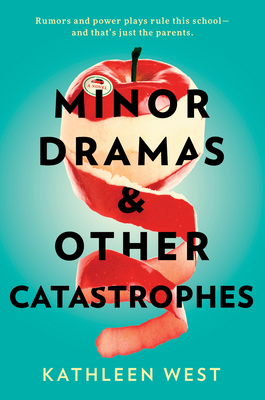 Staff Reviews
---
The drama spills off stage after the cast list announcement for Liston Heights High School play causes a helicopter mom to get caught on video shoving a student. overbearing mom Julia didn't mean any harm but the video blows up and tensions flare at the elite school.At the same time, young teacher Isobel Johnson, known for her liberal teaching style, starts to receive phone calls warning her about her "anti-American agenda" - just in time to make her a candidate for downsizing in the overspent school. As students take sides, Julia and Isobel battle for the respect of the kids. An anonymous Facebook group adds fuel to the fire and soon everyone is riled up. As things come to a head, will anyone agree on how to help the kids? Will Isobel and Julia find common ground or are they destined to be enemies forever?
— From
Andi
Description
---
Perfect for fans of Where'd You Go, Bernadette and Small Admissions, a wry and cleverly observed debut novel about the privileged bubble that is Liston Heights High—the micro-managing parents, the overworked teachers, and the students caught in the middle—and the fallout for each of them when the bubble finally bursts.

When a devoted teacher comes under pressure for her progressive curriculum and a helicopter mom goes viral on social media, two women at odds with each other find themselves in similar predicaments, having to battle back from certain social ruin.
 
Isobel Johnson has spent her career in Liston Heights sidestepping the community's high-powered families. But when she receives a threatening voicemail accusing her of Anti-Americanism and a liberal agenda, she's in the spotlight. Meanwhile, Julia Abbott, obsessed with the casting of the school's winter musical, makes an error in judgment that has far-reaching consequences for her entire family.
 
Brought together by the sting of public humiliation, Isobel and Julia learn firsthand how entitlement and competition can go too far, thanks to a secret Facebook page created as an outlet for parent grievances. The Liston Heights High student body will need more than a strong sense of school spirit to move past these campus dramas in an engrossing debut novel that addresses parents behaving badly and teenagers speaking up, even against their own families.
About the Author
---
Kathleen West is a veteran middle and high-school teacher. She graduated with a degree in English from Macalester College and holds a Master's degree in literacy education from the University of Minnesota. She lives in Minneapolis with her hilarious husband, two sporty sons, and very bad goldendoodle.
Praise For…
---
"A wry, engaging debut."--People magazine, on Minor Dramas & Other Catastrophes

More praise for Minor Dramas & Other Catastrophes

"Just as good as Liane Moriarty's Big Little Lies."--Kirkus (starred review)

"Fans of Where'd You Go Bernadette will flip for this clever, drama filled debut novel."--Woman's World

"A smart and delightful story of entitlement, friendship, and overparenting, with page-turning twists galore. West writes across lines of class and generation with grace and ease. A big-hearted debut."--Bruce Holsinger, author of The Gifted School

"As intriguing as it is timely. West provides a funny and shocking glimpse into American parenting through the lens of an out-of-control stage mother who has lost all sense of boundaries."--Amy Poeppel, author of Limelight

"A cutting and witty examination of modern parenting that excels in suburban relatability, West's debut novel will pique the curiosity of fans of Maria Semple's Where'd You Go, Bernadette."--Booklist

"Helicopter parenting and high school politics at their worst--and funniest. A smart, fast-paced, and deliciously entertaining debut!"--Meg Donohue, USA Today bestselling author of You, Me, and The Sea