Death and Other Happy Endings: A Novel (Hardcover)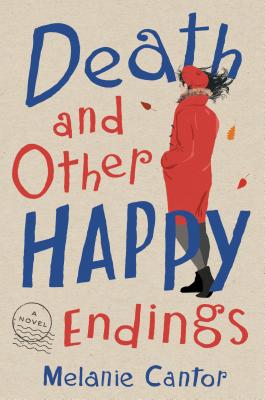 Staff Reviews
---
Sometimes death has a way of sneaking up on us - which is exactly what happens when Jennifer Cole is given the unexpected diagnosis of a rare blood disorder. The doctor says she has ninety days at most to get her affairs in order before she dies. Understandably shocked by the news, Jennifer decides that she should finally start telling the truth. She writes a series of letters to people that she has unresolved business with - her ex-husband, former boyfriend, sister, and former friend. At first she feels liberated but soon she can't stop telling the truth. This book is filled with nonstop surprises. It is unexpected, original, and at times even funny. This book takes an unflinching look at the nuance that encompasses life, death, and family. I couldn't put this book down! It was a delight from start to finish.
— From
Dean
Description
---
There's nothing like being told that in three months you'll be dead to make you think about what you really want in life

"A novel about self-discovery, with plenty of surprises and a snappy, Bridget-Jones-gets-a-terminal-diagnosis vibe." -Booklist

Jennifer Cole has just been told that she has a terminal blood disorder and has just three months to live--ninety days to say goodbye to friends and family, and to put her affairs in order. Ninety days to come to terms with a diagnosis that is unfair, unexpected, and completely unpronounceable. Focusing on the positives (she won't have to go on in a world without Bowie or Maya Angelou; she won't get Alzheimer's or Parkinson's like her parents, or have teeth that flop out at the mere mention of the word apple), Jennifer realizes she only has one real regret: the relationships she's lost.

Rather than running off to complete a frantic bucket list, Jennifer chooses to stay put and write a letter to the three most significant people in her life, to say the things she wished she'd said before but never dared: her overbearing, selfish sister, her jelly-spined, cheating ex-husband, and her charming, unreliable ex-boyfriend--and finally tell them the truth.

At first, Jennifer feels cleansed by her catharsis. Liberated, even. Her ex-boyfriend rushes to her side and she even starts to build bridges with her sister Isabelle (that is, once Isabelle's confirmed that Jennifer's condition isn't genetic). But once you start telling the truth, it's hard to stop. And as Jennifer soon discovers, the truth isn't always as straightforward as it seems, and death has a way of surprising you....
About the Author
---
Melanie Cantor worked for many years in PR and as a celebrity talent agent, and has dabbled in interior renovations, which led to her hosting a UK TV series where she tidied up people's messy houses. She has since concentrated on writing; Death and Other Happy Endings is her first published novel. She has two grown up sons, a dog and lives in London.
Praise For…
---
Praise for Death and Other Happy Endings:

"A novel about self-discovery, with plenty of surprises and a snappy, Bridget-Jones-gets-a-terminal-diagnosis vibe." 
–Booklist

"[An] accomplished debut. . . Twists push the story in intriguing directions, and the clever, personable voice of Jennifer is like that of a witty friend with a bad news/good news story to tell, resulting in a moving novel with a surprisingly playful edge."
–Publishers Weekly

"A brisk, witty tale of saving your life by finding your voice."
–Kirkus Reviews

"Witty, very touching, and entirely unexpected."
–Jenny Colgan, New York Times bestselling author of The Bookshop on the Corner

"Brilliantly funny and thought-provoking--an absolute joy."
–Rosie Walsh, New York Times bestselling author of Ghosted
 
"Effortlessly charming and endlessly life-affirming. Death and Other Happy Endings is a joy from start to finish. An emotional, uplifting story from a bright new voice in fiction."
–Georgia Clark, author of The Bucket List

"Bursting with heart and charm, Cantor serves up a wonderfully warm take on love, loss, and second chances." 
–Hannah Orenstein, author of Playing with Matches

"A spirited feel-good story that made me smile."
–Fanny Blake, author of An Italian Summer

"Written with energy and sparkle. . . clever."
–Elizabeth Buchan, author of The New Mrs Clifton