Sizing People Up: A Veteran FBI Agent's User Manual for Behavior Prediction (Hardcover)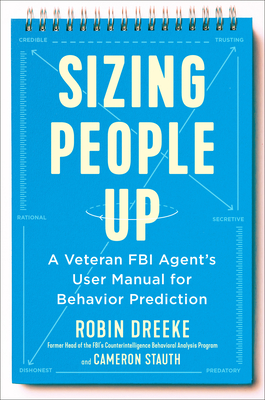 Description
---
A former FBI agent shares his simple but powerful toolkit for assessing who you can trust--and who you can't.

After two decades as a behavior analyst in the FBI, Robin Dreeke knows a thing or two about sizing people up. He's navigated complex situations that range from handling Russian spies to navigating the internal politics at the Bureau. Through that experience, he was forced to develop a knack for reading people--their intentions, their capabilities, their desires and their fears.

Dreeke's first book, It's Not All About "Me," has become a cult favorite with readers seeking to build quick rapport with others. His last book, The Code of Trust, was about how to inspire trust in others as a leader. In Sizing People Up, Dreeke shares his simple, six-step system that helps you predict anyone's future behavior based on their words, goals, patterns of action, and the situation at hand.

Predicting the behavior of others is an urgent need for anyone whose work involves relationships with others, whether it's leading an organization, collaborating with a teammate, or closing a sale. But predictability is not as simple as good and evil, or truth and fiction. Allies might make a promise with every intention of keeping it, not realizing that they will be unable to do so due to some personal shortcoming. And those seeking to thwart your endeavor may not realize how reliable their malevolent tells have become.

Dreeke's system is simple, but powerful. For instance, a colleague might have a strong moral code, but do they believe your relationship will be long-term? Even the most upstanding person can betray your trust if they don't see themselves tied to you or your desired result in the long term. How can you determine whether someone has both the skill and will to do what they've said they're going to do? Behaviors as subtle as how they take notes will reveal their reliability.

Using this book as their manual, readers will be able to quickly and easily determine who they can trust and who they can't; who is likely to deliver on promises and who will disappoint; and when a person is vested in your success vs when they are actively plotting your demise. With this knowledge they can confidently embark on anything from a business venture to a romantic relationship to a covert operation without the stress of the unknown.
About the Author
---
Robin Dreeke entered federal law enforcement in 1997, after graduating from the US Naval Academy and serving in the US Marine Corps. He received advanced training and operational experience in social psychology and in the practical application of the science of relationship development. Eventually he rose to direct the behavioral analysis program in a federal law enforcement agency. Dreeke recently retired as an agent of the FBI. He is the author of It's Not All About "Me."

Cameron Stauth is the author or co-author of more than twenty books, including several national and international bestsellers.
Praise For…
---
"An indispensable contribution to the field from a master practitioner. If your work would benefit from knowing what people will do next, this book is your new must-have."
–Joe Navarro, author of What Every Body Is Saying
 
"Dreeke's to-the-point style, humility, and occasional flashes of humor make for an enjoyable and illuminating work."
–Publishers Weekly
 
"I have known Robin for over a decade and I still learn things from him that amaze me. This new work is his best. It has gripping stories, actionable tips and is a wonderful read."
–Christopher Hadnagy, author of Social Engineering
 
"Knowing how to read people is an essential skill everyone should have in their arsenal. Robin Dreeke is your guide to spotting discrepancies and protecting yourself. He gives you a simple, but powerful system you can use in all of your relationships."
–Vanessa Van Edwards, author of Captivate
 
"The definitive framework for spotting who you can trust—and who you can't."
–Shane Parrish, founder of Farnam Street
 
"This book is a super practical guide to building the strong, trusting relationships you need to lead a team, start a business, or raise a family. Two huge likeable thumbs up from me for this must-read!"
–Dave Kerpen, author of The Art of People
 
"Sizing People Up is the best class on human behavior that you never got. This book is a marriage of a deep, data-driven understanding of human nature and practical, results-driven advice. It's book-smart meets street-smart. And it's a whole lot of fun, too."
–Jay Phelan, co-author of Mean Genes
 
"Whether you're on your way up the ladder of success, or already there, the information and tools in this book will help you navigate through business relationships, forge win-win alliances and achieve your short and long term goals."
–David Shaw, President & Founder, Quantum Health

"The illustrative anecdotes buried inside the instruction are exciting and insightful, and will attract thriller fans."

-Nashville Ledger and Rushville Republican