Coloring Whiteness: Acts of Critique in Black Performance (Theater: Theory/Text/Performance) (Hardcover)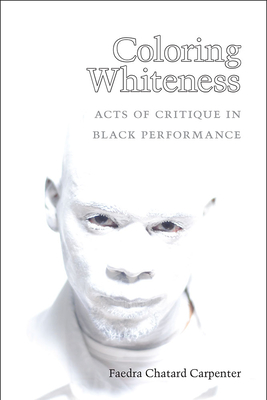 $104.00
Not available for purchase
Description
---
Coloring Whiteness pays homage to the ways that African American artists and performers have interrogated tropes and mythologies of whiteness to reveal racial inequalities, focusing on comedy sketches, street theater, visual art, video, TV journalism, and voice-over work since 1964. By investigating enactments of whiteness—from the use of white makeup and suggestive masks, to literary motifs and cultural narratives regarding "white" characteristics and qualities—Faedra Chatard Carpenter explores how artists have challenged commonly held notions of racial identity. Through its layered study of expressive culture, her book considers how artistic and performance strategies are used to "color" whiteness and complicate blackness in our contemporary moment.

Utilizing theories of performance and critical race studies, Coloring Whiteness is also propelled by Carpenter's dramaturgical sensibilities. Her analysis of primary performance texts is informed not only by traditional print and visual materials, but also by her interviews with African American theater artists, visual artists, and cultural critics. The book is an invaluable contribution to the fields of theater and performance studies, African American studies, cultural studies, critical race studies, and American studies.
About the Author
---
Faedra Chatard Carpenter is a freelance dramaturg and Assistant Professor in the School of Theatre, Dance, and Performance Studies at the University of Maryland.
Praise For…
---
Honorable Mention, John W. Frick Book Award, American Theatre and Drama Society
— John W. Frick Award