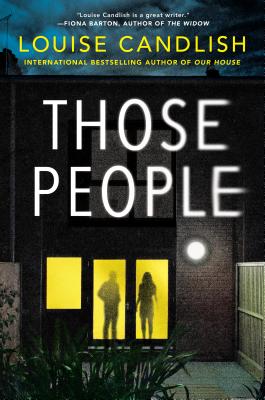 Staff Reviews
---
This is like Liane Moriarty set in England and I love it. The neighbors on Lowland Way are a tight-knit community with their routine set and agreed upon, and they all live (mostly) harmoniously together. All that changes when Darren and Jodie move into Darren's late aunt's home. They disrupt the idyllic street with unsightly renovations, loud late night music, and a garage business on the premises. The neighbors can't make them stop by legal means so someone takes matters into their own hands early one weekend morning. Everyone is suspect as the police investigate and the clues come at you fast and furious. This mystery reads really quickly and kept me entertained on each page. I couldn't wait to find out who did it and how.
— From
Andi's Picks 2019
Description
---
From the author of the international bestseller Our House, a new novel of twisty domestic suspense asks, "Could you hate your neighbor enough to plot to kill him?" 

Lowland Way is the suburban dream. The houses are beautiful, the neighbors get along, and the kids play together on weekends. 

But when Darren and Jodie move into the house on the corner, they don't follow the rules. They blast music at all hours, begin an unsightly renovation, and run a used-car business from their yard. It doesn't take long for an all-out war to start brewing.

Then, early one Saturday, a horrific death shocks the street. As police search for witnesses, accusations start flying—and everyone has something to hide.
About the Author
---
Louise Candlish attended University College London and worked as an editor in art publishing and as a copywriter before becoming a novelist. She lives with her husband and daughter.
Praise For…
---
Praise for Those People
 
"Those People is one of 'those' thrillers you quite literally cannot put down."—Cosmopolitan
 
"A twisted, murderous thriller that should resonate deeply with anyone who's ever despised a loud neighbor."—PopSugar

"Highly entertaining….Candlish forcefully builds the tension in Those People until it reaches a crescendo that is as frightening as it is believable….Candlish knows how to turn everyday situations sinister."—Associated Press

"Beautifully modulated and terrifically suspenseful. "—The Washington Post

"[A] disturbing novel of domestic suspense. With a structure reminiscent of Liane Moriarty's Big Little Lies….A nicely paced, wryly intelligent novel with sharp insights into human behavior."—Kirkus Reviews

"An addictive, twisty page-turner about the neighbors from hell that will give you nightmares about the suburban dream."—Alice Feeney, New York Times bestselling author of Sometimes I Lie

"[A] riveting story of a tight-knit…community driven to desperate measures by a neighbor from hell….a dark whodunit…[an] exciting thriller."—Shelf Awareness

"[An] intricately plotted yet fast-paced storyline. This fiendishly twisty and suspenseful tale of secrets, lies, jealousy, and intrigue keeps readers guessing until the very end. Fans of Celeste Ng and Leila Slimani will be pleased with this contemporary take on families and violence."—Booklist

"Prepare to be gripped; Those People is nail-bitingly tense from the first page to the last. Louise Candlish shows us the dark side of suburbia--and of ourselves."—Erin Kelly, author of the international bestseller He Said/She Said

"Those People skewers middle-class NIMBYism with elegance and acid. Sharp satire and a plot that builds to a roiling boil with a couple of oh-so-clever final twists in close succession."—Sarah Vaughan, author of the international bestseller Anatomy of a Scandal

Praise for Our House

"Nail-biting from the first line to the very end, Our House plunges the reader into one family's terrifyingly plausible nightmare, and twists the knife right up to the very final page."—Ruth Ware, #1 New York Times bestselling author of The Death of Mrs. Westaway

"[A] superb thriller...the ending Candlish has devised is devastating."—The Washington Post

"An artfully plotted, affecting page-turner…a truly killer climax."—Publishers Weekly(starred review)

"Candlish is skilled at portraying families in critical situations and ramping up the suspense...An absorbing plot with surprising twists until the final page."—Library Journal (starred review)
 
"[A] twisty domestic thriller that features everything readers enjoy about the genre: dark secrets, unreliable narrators, a fast-moving plot, and a terrifyingly plausible premise. This could be summer's breakout hit."—Booklist (starred review)
 
"I loved the wonderful hook of Our House, which plays with our modern obsession with property—and the vulnerability that exposes. Louise Candlish is a great writer; she inhaled me into her nightmarish world where everything we think we know is ripped from under our feet."—Fiona Barton, New York Times bestselling author of The Widow

"[A] masterfully plotted, compulsive page-turner."—The Guardian

"The last line will make you literally shout with shock."—Good Housekeeping