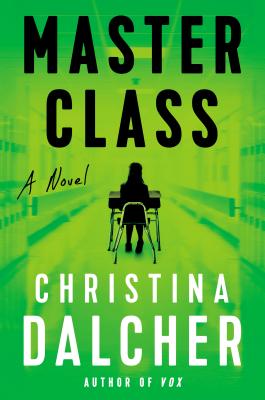 Staff Reviews
---
Dalcher does it again! This follow up to 2018's Vox is just as powerful as her first novel. Set in the not too distant future, all children and adults have a Q number, and their entire life revolves around it. Monthly tests ensure that they're keeping up and if someone's score drops, they are demoted to a lower category. Each color coded category affects all aspects of life - employment, education, respect - everything. Elena Fairchild's younger daughter tests out of her elite school and is shipped off to a state institution in Kansas. Elena has to choose between giving up her life as she knows it and rescuing her daughter from the prison-like environment. Dalcher brings up stark realities in this work of fiction and makes us think about the direction our society is heading.
— From
Andi
Description
---
From the critically-acclaimed author of the international bestseller VOX comes a suspenseful new novel that examines a disturbing near future where harsh realities follow from unreachable standards.

It's impossible to know what you will do…

Every child's potential is regularly determined by a standardized measurement: their quotient (Q). Score high enough, and attend a top tier school with a golden future. Score too low, and it's off to a federal boarding school with limited prospects afterwards. The purpose? An improved society where education costs drop, teachers focus on the more promising students, and parents are happy.

When your child is taken from you.

Elena Fairchild is a teacher at one of the state's elite schools. When her nine-year-old daughter bombs a monthly test and her Q score drops to a disastrously low level, she is immediately forced to leave her top school for a federal institution hundreds of miles away. As a teacher, Elena thought she understood the tiered educational system, but as a mother whose child is now gone, Elena's perspective is changed forever. She just wants her daughter back.

And she will do the unthinkable to make it happen.
About the Author
---
Christina Dalcher earned her doctorate in theoretical linguistics from Georgetown University. She specializes in the phonetics of sound change in Italian and British dialects and has taught at several universities.

Her short stories and flash fiction appear in more than one hundred journals worldwide. Recognition includes first place for the Bath Flash Fiction Award, nominations for the Pushcart Prize, and multiple other awards. She lives in Norfolk, Virginia, with her husband.
Praise For…
---
Featured on i09's list of April releases!

"Christina Dalcher's Master Class conjures an America informed by tragic elements of its past and present where science and humanity are both abused in ways that are all-too familiar and plausible. Her heroic women and tough yet elegant prose suggest Margaret Atwood updated for this moment. Master Class will confirm your fears and affirm your hope."⁠—Michael D'Antonio, Pulitzer Prize-winning journalist and author of The State Boys Rebellion

"The book's examination of the way people will accept more and more small social changes until the system becomes something unrecognizable and horrific feels timely and urgent...top notch and keeps the reader guessing. An engaging parable of dangerous social change."⁠—Kirkus Reviews

"Dalcher combines the pace and tension of a standout thriller with thought-provoking projections of the possible end result of ranking children based on test scores. Admirers of The Handmaid's Tale will be appropriately unsettled."⁠—Publishers Weekly (starred review)

"Dalcher's novel reads like an expanded episode of Black Mirror; it is terrifying, haunting, and cautionary."—Booklist

"Dalcher has proven herself a master author of insidious suspense."—The Nerd Daily

"Poignant, chilling and painfully self-aware, Master Class is another eye-opening read from an author who is not afraid to ask the hardest questions imaginable—and force her readers to answer them."—BookReporter.com