Four Lost Cities: A Secret History of the Urban Age (Hardcover)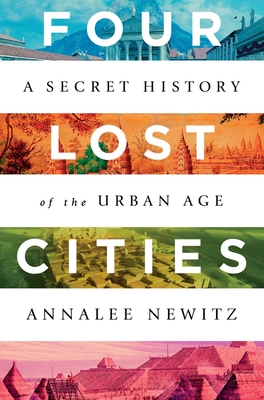 Staff Reviews
---
I know Annalee Newitz from their excellent work in speculative fiction and have been a fan for ages. They now take to the page with this delightful work of nonfiction exploring the deaths of four historic civilizations. If you enjoy the works of the late Tony Horowitz, Eric Larson, and Karen Abbott, you will love this book! Traveling to the ruins of these lost urban mega-cities, Newitz explores how they were founded, how they developed and what caused their demise. From Pompeii to Cahokia, located near present-day Saint Louis, we see how every day people lived and died and what caused their civilizations to collapse. The tone of the book is light and anecdotal with a touch of whimsy without shying away from the darker aspects of ancient history. Ultimately hopeful, the author shows us what we can learn from the lessons of the past to avoid making the same mistakes as these doomed urban peoples without being preachy or sounding superior. Even if you don't read much history, I can highly recommend this book as just a fabulous read!
— Kelly
Description
---
A quest to explore some of the most spectacular ancient cities in human history—and figure out why people abandoned them.
In Four Lost Cities, acclaimed science journalist Annalee Newitz takes readers on an entertaining and mind-bending adventure into the deep history of urban life. Investigating across the centuries and around the world, Newitz explores the rise and fall of four ancient cities, each the center of a sophisticated civilization: the Neolithic site of Çatalhöyük in Central Turkey, the Roman vacation town of Pompeii on Italy's southern coast, the medieval megacity of Angkor in Cambodia, and the indigenous metropolis Cahokia, which stood beside the Mississippi River where East St. Louis is today.
Newitz travels to all four sites and investigates the cutting-edge research in archaeology, revealing the mix of environmental changes and political turmoil that doomed these ancient settlements. Tracing the early development of urban planning, Newitz also introduces us to the often anonymous workers—slaves, women, immigrants, and manual laborers—who built these cities and created monuments that lasted millennia.
Four Lost Cities is a journey into the forgotten past, but, foreseeing a future in which the majority of people on Earth will be living in cities, it may also reveal something of our own fate.
About the Author
---
Annalee Newitz, a contributing opinion writer for the New York Times, is a founder of io9 and former editor-in-chief of Gizmodo. They are the author of Scatter, Adapt, and Remember and the novels Autonomous and The Future of Another Timeline. They live in San Francisco.
Praise For…
---
[E]xcellent…fair, judicious, open-minded…the strength of the book arises from distrust of elites and preference for common people.
— Felipe Fernández-Armesto, Wall Street Journal

[An] astounding reflection on the rise and fall of civilisations…energising.
— Nilanjana Roy, Financial Times

The book functions as a travel guide to places that no longer exist…[it] filled me with wonder.
— Russell Shorto, New York Times Book Review

Newitz clearly draws parallels and lessons for the here and now from these once-vast settlements…Highly recommended.
— Booklist (starred review)

[A] richly detailed, progressively minded history…Newitz skillfully fuses personal reflections with scientific observations, and offers a welcome tribute to the legacy of human resilience.
— Publishers Weekly

[W]ell-researched, current, and directly applicable to our modern lives…An excellent contribution to literature on ancient civilization and complexity.
— Library Journal

A revealing look at the ancient past that speaks thoughtfully to the global-warming present.
— Kirkus Reviews

Cheerful, curious, amused, and amusing, Annalee Newitz is a fabulous tour guide through the latest archaeological perspectives on four of humankind's most remarkable urban experiments. Along the way, Newitz dispels myths, evokes fascinating stories—and makes us think hard about our own urban future.
— Charles Mann, author of 1491 and 1493

Newitz always sees to the heart of complex systems and breaks them down with poetic ferocity.
— N. K. Jemisin, author of the Broken Earth trilogy and The City We Became

Annalee Newitz is a brilliant writer with the heart of an archaeologist and the soul of a visionary. Four Lost Cities should open our eyes to all that may happen to our cities in the future. Vibrant and adventurous, this is a necessary book for turbulent times.

— Sarah Parcak, archaeologist and author of Archaeology from Space

Drawing on four examples from the ancient world, Annalee Newitz gives us clear-eyed insight into how cities never are truly lost; they just change with their times. Newitz takes readers on a journey that reveals as much about the future of cities as it does about our urban past. Beautifully written, Four Lost Cities tells a fascinating tale of disaster and resilience that is welcome in our uncertain era.

— Andrew Lawler, author of The Secret Token

In their fascinating book Four Lost Cities, Annalee Newitz journeys to a quartet of ancient ghost cities, asking not only why they once thrived but why they ultimately vanished. The result is a deeply insightful look at human culture everywhere: inventive, social, resilient, and hauntingly fragile.

— Deborah Blum, Pulitzer Prize–winning author of The Poison Squad